NLB introduces power lotto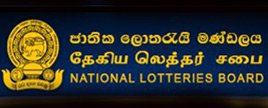 Power Lotto is the latest addition to the six lotteries of the National Lotteries Board (NLB).
It doesn't require checking boxes or any marking.
The winning pattern is attractive and beneficial to customers. The first draw will be held on July 19. Draws will take place on Saturdays every fortnight. Labelled as the 'Biggest Jumpstart of Your life' it proposes a change by offering a first prize of Rs. 50 million and several consolation prizes.
The National Lotteries Board is an institution that frequently comes up with innovative ideas.
Power Lotto has a massive prize pattern. A ticket is priced at Rs. 50. Hence the cost of a ticket and the prize pattern is a new concept to the Sri Lankan market.
The dealer gets a higher commission corresponding to the higher value of the ticket.