Restructuring helps Laksala grow - Chairman
Laksala continues to remain the leading gift and souvenir boutique chain in Sri Lanka. It has a supply base of 8,000 craft entrepreneurs and 13 well-designed showrooms of international level.
"Our growth rate is 67 percent at present. Laksala recorded a revenue of Rs 246.7 million in 1Q, 2014, compared to Rs. 147.8 million in 1Q, 2013," Laksala Chairman and CEO Anil Koswatte said.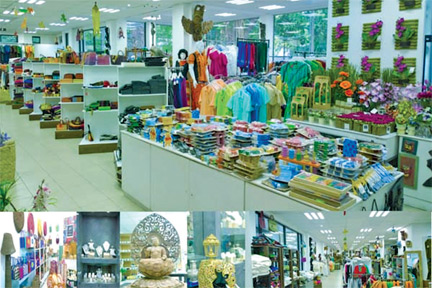 He said that timely initiatives to expand the local and foreign customer base, introducing new and value added products and cost saving projects paved the way for Laksala to report growth.
"The revenue target for 2014 is Rs 1 billion, which we are confident we can achieve parallel to the growth of the tourism industry which has a target over 1.5 million tourist arrivals this year. We aim at attracting at least 65 percent of the tourists to Laksala showrooms," he said.
With the major portion of the sales revenue coming from sales to tourists, Laksala is an indirect exporter contributing towards the export revenue of the economy. Laksala acts as an export trading company to a large number of small and medium-scale craft entrepreneurs.
Landmark store
It hopes to purchase products worth Rs 600 million from local industrialists. With plans to open seven more stores in the near future, Laksala will have 23 outlets by 2020.
The landmark Laksala Museum Gallery Café, which was opened recently attracts many tourists and high-end local clients.
"The idea originated from Economic Development Minister Basil Rajapaksa as part of his efforts to boost the tourism industry. We continue to look at a brighter future under the Ministry's Divi Neguma national program as well," said Koswatte.
The quality of the products have been upgraded and greater attention is paid to quality. The product portfolio has reached more than 30,000 and customers now have a better choice.
Laksala has repositioned the business to attract the attention and goodwill of local and foreign customers. The vision of Laksala is to become the leader in the gift and souvenir category in Sri Lanka.
Being the biggest and the oldest business chain in this sector has several competitive advantages.
It is widely recognised as a trusted retailer supported by the strength of being a state institution. Its products are recognised as genuine and of high quality. Laksala is committed to protect and preserve the traditional craftsmanship of the rural community an integral part of our heritage.
The management of Laksala embarked on a comprehensive modernisation program in 2011 to restructure the institution and make it profitable, sustainable and more relevant to the demands of customers.
A three-pronged strategy was adopted. The strategies were re-defining the category to expand the product range, repositioning the institution through branding and marketing and improving the level of service of employees by fostering positive attitudes among staff for better customer service.
The management of Laksala correctly identified that the institute would be more competitive if it was seen as more than simply a marketeer of handicrafts and instead operated within the gift and souvenir category. This is a sector that has great potential and demand especially among tourists.
In line with this approach, Laksala expanded its product category to include souvenirs such as masks, gems and jewellery, Ceylon tea and spices, handloom and batik items, leather products and ceramics.
An intensive branding exercise was carried out and several main outlets were extensively refurbished and turned into modern, attractive showrooms. These boutiques more effectively showcase the wide range of products that Laksala has to offer and the beauty of Sri Lanka's traditional gift and souvenir products.
Fresh thinking
To improve the level of service of employees, we needed people who were in tune with modern marketing methods that the organisation was adopting. To introducing new skills and fresh thinking, a voluntary retirement scheme was offered for those who opted to leave and several younger people were hired.
With these changes, Laksala has become a modern, customer-friendly and financially sustainable institution. Laksala has been working with the Sri Lanka Development Authority, National Crafts Council, the Design Centre, Faculty of Design of the Moratuwa University and the Academy of Design to improve design while maintaining the authenticity of traditional gift items.
It has also entered into an agreement with the Bank of Ceylon to provide craftsmen with financial assistance to expand production capacity.
Laksala obtained the services of the National Gem and Jewellery Authority to certify the authenticity of gems and the standard of metals used in jewellery offered for sale in Laksala outlets.
Poverty reduction
Laksala is aligned with government programs such as Divi Neguma envisioned in the Mahinda Chintana policy document and introduced by the Ministry of Economic Development to help the rural sector by improving local products. It ensures that rural entrepreneurship is enhanced and there is a positive impact on rural poverty reduction.
Laksala is poised for future growth, supported by the commendable performance of Sri Lanka's economy, flourishing tourism sector and increased efforts by the government to develop the local gift and souvenir industry.
The economy has been growing at a rate of over six percent for the past three years as peace and political stability began to pay dividends.
This growth was mainly led by the agriculture and service sectors, though there was growth across other areas. The tourism industry is flourishing with arrivals increasing annually. As tourism is the main driver for gift, souvenir and traditional Sri Lankan handicrafts, the increase in arrivals indicates the immense potential of this industry.
Laksala, one of the most renowned shopping destinations in the country, was awarded the Certificate of Excellence 2014, based on customer reviews and ratings of shopping malls across the globe by Tripadvisor, which is acclaimed as the world's largest travel site enabling travellers to plan and have the perfect trip including shopping.
Tripadvisor branded sites make up the largest travel community in the world, reaching nearly 260 million monthly visitors and more than 150 million reviews and opinions covering more than four million accommodations, restaurants and shopping destinations.
Award
The Certificate of Excellence 2014 was awarded based on Laksala's excellent customer service, level of fulfilling their needs and the degree of satisfaction by customers who visited Laksala.
"This was a remarkable achievement following the restructuring of the institution after being identified as an under-performing entity and turning it around to a profit making, world class international shopping destination within three years," Koswatte said.
This is the first time this award was won by Sri Lanka and Laksala was the only government institution selected for this prestigious award among 22 leading shopping destinations in Sri Lanka.
This is ample testimony of our commitment to customer satisfaction and service excellence.
Laksala was set up in November 1964 under the Department of Marketing and Export Promotion of Handicrafts. In 2009, on a directive of President Mahinda Rajapaksa, Laksala was bought under the supervision of Strategic Enterprise Management Agency (SEMA) to be managed as an independent commercial enterprise.
Since then, Laksala has witnessed numerous changes with an ever growing list of products on offer. It enables the supply chain to be profitable and viable by having a safety net on product pricing.