Short story:
Health is wealth
There was a popular school in one of the urban areas. It was a semi-government school. It was considered a great privilege to study in that school.
Most of the rich and well-to-do families sent their children to that particular school for which a fee had to be paid.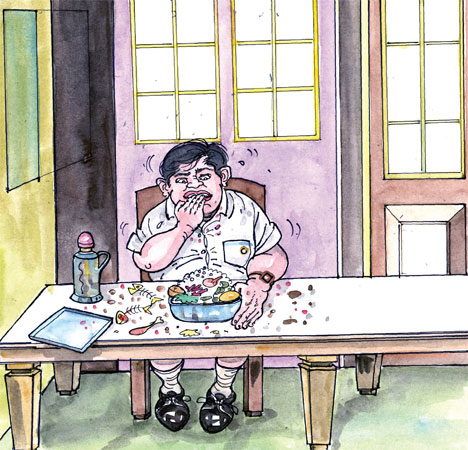 There were so many mischievous students in the school. They were big-headed due to the wealth of their parents.
The grade eight class was quite different from the other classes. There was a set of well-disciplined students except for one from a group of 11 boys. Ramesh was the odd student in the grade eight class. In comparison to the social and family status of all the other boys, Ramesh ranked high among them.
The grade eight class was united. They shared and cared for each other except for Ramesh who was quite odd because he did not like to mingle and socialise with the other boys in the class.
Ramesh was the richest boy in the class. He never liked to share anything with his friends. "Hey, this whole bench is mine, don't dare you come and sit with me!" said Ramesh to one of the boys. He was not so intelligent like the other boys.
His only work was to eat plenty of food and fall asleep in the classroom bench.
Most of his teachers were worried about him. They wanted to correct him but all their efforts were in vain.
They complained against him to the principal and to his parents as well but he could not be reformed.
As Ramesh was from a very rich family and his parents were influential, the teachers could not advise or warn him. Ramesh used to complain to his parents that he was beaten by his teacher. In fact the teacher had advised him to be of good behaviour. His parents too believed him and started complaining to the principal against the teacher.
Ramesh bought different varieties of food which made the other students' mouth water. He ate a lot of junk food. His mouth was always so busy munching food. During the interval, he spread his food on the table and ate greedily and then slept well.
As Ramesh was eating a lot without studying, doing sports or engaging in extra-curricular activities, he started to grow very fat and bulky. Eventually he fell ill and became obese.
One day he realised that he could not even move his body. He became very fat and his friends and teachers made fun of him saying 'fatty boy' and 'bulky boy.' Ramesh and his parents used their wealth and influence to frighten others. They never took notice of the advice given by others.
When Ramesh fell seriously ill, his wealth could not restore his health.
His parents took him to medical specialists for treatment. Unfortunately, none could help Ramesh regain his health and fitness.
They spent lavishly but his condition did not improve.
Ultimately Ramesh realised that the advice given by others on his eating habits was correct. He repented for not following them.
Ramesh had a lot of wealth but his health could not be restored. This reminds us of the old adage, "Health is wealth."