Causing religious hatred is an offence:
Errant politicians exploit race and religion for personal gain – Faiszer Musthapha
Deputy Investment Promotion Minister Faiszer Musthapha said that race and religion had unfortunately become a strategy for some politicians to promote themselves causing irreparable damage to national reconciliation and harmony.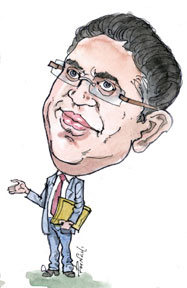 Race and religion are the ideal forum for a politician to market himself, especially if he is not a seasoned politician who considers the country's development, youth or skills and moreover, if doesn't want to do anything tangible to improve people's lives. The best marketing strategy is to go by one's race, religion and ask for his share rather than saying that somebody is transgressing his rights, the Minister told the Sunday Observer yesterday.
This is dangerous as the dividends of peace need to be used for national reconciliation and harmony. During the war against terrorism, we all worked collectively to defeat the menace. Unfortunately what is taking place in certain quarters today is regrettable, the Deputy Minister said.
Some people who support certain international agendas wittingly or unwittingly help propagate racism. People who propagate racism play into their hands. It is regrettable that some politicians add fuel to fire. The objective of certain parties was to spread hatred is evident from their statements on the recent incidents at Aluthgama and Beruwala.
When one fans religious hatred, extremists in other communities respond accordingly. At the same time, if one spreads religious hatred there is a hurt factor in it, he said.
"Causing religious hatred is an offence. At times certain sections of the media too propagate religious hatred. Hence the rule of law should be enforced in the country. Any organisation which fans religious hatred should be banned," the Deputy Minister said.