Rebuilding operations begin in Aluthgama - Beruwala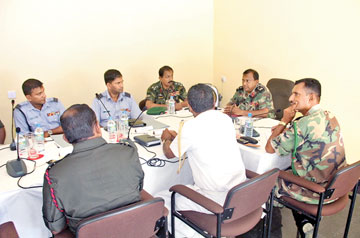 Tri Forces heads in discussion with Maj. Gen. Ubaya Medawala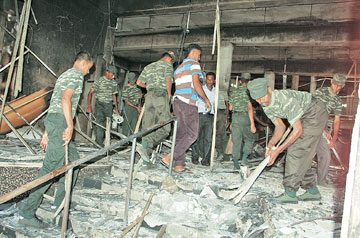 Army personnel expediting the claring work
Rebuilding and renovating areas affected by the recent communal riots in Aluthgama and Beruwala areas are in progress with over 125 Army personnel deaployed in different duties.
Security Force Headquarters, West of the Sri Lanka Army which has now been entrusted with the arduous challenge formally commenced its work on Friday.
The work began with the initial debris and rubble collection, re-evaluation of remaining structures and overall assessment of repairs in Aluthgama town, Dharga town, Ambagashandiya Military Road, Adikarigoda, Pathirajagoda and Seeniwatta areas, according to Major General Ubaya Medawala, Commander, SFHQ-West.
President Mahinda Rajapaksa directed the Secretary Defence Gotabaya Rajapaksa and Commander of the Army Lieutenant General Daya Ratnayake to immediately undertake repairs to affected areas with the participation of Army and other service personnel on June 18 following the meeting with the religious and civil leaders in Beruwala soon after his arrival from an overseas visit.
The government has already allocated Rs 200 million for reconstruction work, out of which Rs 150 million has been earmarked for Army renovation roles.SFHQ-West troops while conducting this initial repair work in close coordination with Navy, Air Force, Ministry of Resettlement, Municipal Councils and Pradeshiya Sabhas in respective areas, are to engage in this work under two phases.
Maj. Gen. Medawala said that immediately following the survey and clean-up work, another batch of 765 Army personnel with members of the Engineer Service Regiment will begin physical repairs and renovation projects within a few weeks.
(DY)