Price cuts in essential items :
For whose Benefit was it
Consumers complain that although prices of thirteen essential food items were slashed offering budgetary relief , it has not filtered down to them.On the other hand eatery owners appear to be a disappointed lot because profit margins had dipped.
Errant vendors to be charged - Marzook



Chairman, Consumer Affairs Authority, Rumi Marzook, said errant vendors will be charged. If the listed essentials are found to be sold at a higher price. He said that consumers had complained about price differences, despite strict instructions being given. Marzook also invited consumers to complain using the hotline, 1977.
According to the reduction in prices through the interim budget, sugar prices were reduced by Rs. 10, milk powder by Rs.61 per 400 g packet, Sustagen milk powder by Rs. 100 per 400g, Wheat Flour by Rs. 12.50 per kilo, bread by Rs.6, green gram by Rs. 40 per kilo, canned fish by Rs. 50, corriander by Rs. 46 to 20 per kilo,chili powder Rs. 25 per kilo, sprats by Rs. 26 per kilo, LP gas Rs. 300 per 12.5 kilo cylinder , turmeric by Rs. 100 per kilo and Maldive fish Rs. 200 per kilo.
Nearly two months after the interim budget, the Consumer Affairs Authority (CAA) last week requested that hoppers, milk tea, and plain tea be reduced in keeping with the reduction in prices of sugar, milk and flour.
Accordingly the price of a cup of milk tea was reduced to Rs. 25, a cup of plain tea to Rs. 10 and a hopper to Rs. 10. This decision was taken by the CAA to provide relief to consumers and to ease the cost of living. After the interim Budget, the All Island Canteen Owners Association reduced the price of a cup of plain to Rs 10 and a cup of milk tea to Rs. 30.The price of a hopper was Rs. 10.
Price reductions
The Sunday Observer checked out if the public reaped the benefit of the price reductions. An owner of a hotel near Echelon square said milk tea is now being sold at Rs 25 in keeping with the government's decision whereas it was Rs. 40 earlier.
Hoppers are being sold at Rs. 10 each. A. J Ranawaka, who was an employee of the shop said a hopper was earlier sold at Rs. 15. He said it was a good thing that prices were reduced but that the law should be enforced all over the country. He said that milk powder price reduction had had no effect. In the budget the price of a packet of milk powder was reduced to Rs. 325.
Bills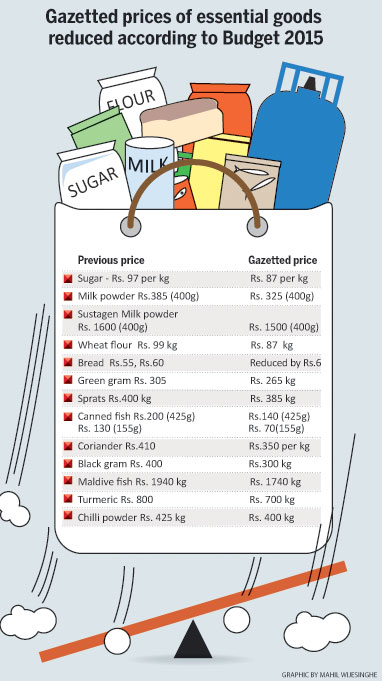 "It was pointless reducing the price of flour, since electricity bills, water bills and gas bills are still high. He said that kiosks opposite the National Hospital were fleecing customers and charged exorbitant prices. They have not reduced their prices. If a law is implemented, it should be carried out in equally everywhere", he said.
A popular eatery in the Fort sold selected items at the new prices.
Azad, who is the cashier said, "We have not benefited from the price reductions. Milk powder is still being sold at the earlier price. When we pay employees, buy gas and food items we face a difficult situation''.
A shop owner was abrupt when asked about price reductions and refused to answer the queries. Another restaurant owner said hoppers were not being made at the moment as the hopper maker was not available. He said plain tea and milk tea were given at the reduced prices and that earlier a cup of milk tea was Rs. 40. An eatery owner who wished to remain anonymous said that they were somehow trying to improve their business. Plain tea is being sold at the new price but he was perturbed when the price of milk tea was asked, "We have put good quality tea leaves and make a tasty cup of tea'', he said.
Ananda from another popular eatery said that price reductions on tea should not have been implemented. According to him it was unfair. "Earlier a cup of milk tea was sold at Rs. 40 and now it is being sold at Rs. 25. Sugar prices has been reduced only marginally and it does not make much difference". They sold selected food items at the reduced prices but the profit was not enough even to pay the electricity, water and gas bills. The employees salaries cannot be increased because of this matter", he complained.
Low budget
Most eatery owner had the same story - they were running on a low budget. A trishaw driver related an interesting story " Earlier they gave a glass of milk tea in a big glass. Now they have reduced the quantity and serve in small 'Asoka' glasses. Although a cup of tea costs Rs. 25, it is not worth at all. You can fill a big glass with two of these. Quality also has been compromised".
Food City and Sathosa, ensured they sold goods at the reduced rates. At Sathosa a kilogram of sprats sold at Rs. 399 earlier but now it has been reduced to Rs. 375. A tin of canned fish,(155g) was sold at Rs.74, whereas now it has been reduced to Rs. 64 .