Disaster management is not about emergency relief but about:
Being prepared
The continuing nightmare that is Meeriyabedda and the vulnerability of Sri Lanka to the perils of floods, tornadoes and other natural disasters has brought into sharp focus the need to invest in disaster preparedness rather than spending on emergency relief.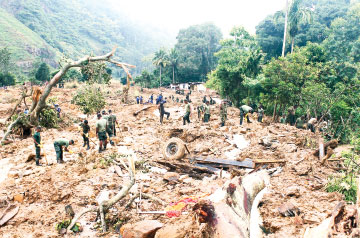 Meeriyabedda landslide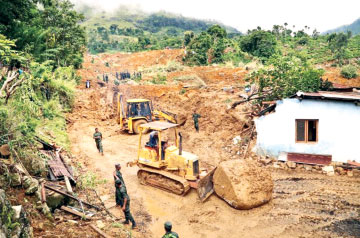 Koslanda landslide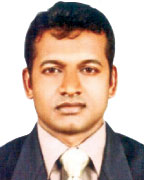 Wasantha Senadeera, Project officer for the Coordinating Secretariat for Science, Technology and Innovation (COSTI) expressed serious concern over climate change world over and Sri Lanka in perticular.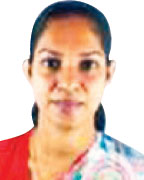 Project officer Nilanka Karunaratne said discussions were on-going to bring in pre-built houses to disaster affected areas in the hill country' where a house is constructed quickly and it is just a matter of assembling pre- fixed parts of the house.
Dr. Ananda Mallawatantri, a veteran in disaster management aknowledging that natural disasters could become more frequent in the future echoed the need for the shift in investment focus. Describing disaster management as a complicated subject requires knowledge on climate, geology, agriculture and many other fields he said the management should have a holistic approach supported by state- of- the-art knowledge.
Being involved in programming several disaster management and mitigating techniques, Dr. Mallawathantri is of the view that if a conducive environment is created to discuss these matters, all stakeholders would work together to create a safe environment. "We have to overcome the fragmentation currently faced by disaster management agencies," he said.
"Although Sri Lanka has a solid foundation of knowledge on the nature of disasters and mitigation, we still do not feel that it is comprehensive enough to find a solution. Why has this foundation not gone to the level where the real work is happening?" he queried. He adduced multiple reasons for this situation.. "We need to get all stakeholders involved in to the project. For example following the Northern Environment Strategic Assessment the Urban Development Authority immediately adopted it, the Forest Department declared protected zones and the Archaeological Department declared their zones immediately because they were part of the project and were able to implement the collective agreement," explained Mallawathantri.
He said government institutions getting caught or pushed into unrealistic targets can lead to disaster as well. When this happens, officials only think of completing the project, and put aside other requirements. When the focus is only on the end product, disaster mitigation and construction resilience is overlooked. These decisions could promote disaster and we have plenty of examples in Sri Lanka to learn. If adequate space can be given for the science to come in, while giving similar concern to the end product, much of the disaster could be avoided," he elaborated.
Meeriyabedde landslide
The Meeriyabedde landslide is a case in point. How can such situations be overcome or at least be made known to the public with early warning signs? Wasantha Senadeera, Project officer for the Coordinating Secretariat for Science, Technology and Innovation (COSTI) expressed serious concern over climate change world over and Sri Lanka in perticular.
Climate change is a global phenomenon and is now taking its toll in Sri Lanka as well. Strange weather patterns, frequent landslides and floods, drought in certain parts of the country are some of the changes affecting Sri Lanka.
Decades ago,. natural disaster did take place in other countries and in Sri Lanka but not on such an unprecedented scale as today. Experts blame it on unplanned human activity.
"Preparing for earthquakes, tsunamis, cyclones and tornadoes is now on every government's agenda, not only to minimise casualties but also monitor such disasters, which are being reported", in the aftermath of the Nepal earthquake, geologists around the world were seriously concerned as to why these disasters occurred and measured the magnitude of the damage.
However, many of them blamed it solely on irresponsible human activity. Senadeera said, adding "There were unavoidable instances when a natural disaster takes its toll and can be attributed to a sudden change in either the weather pattern or in geographical changes but such cases do not happen so frequently".
COSTI coordinates institutes and line ministries to implement automated early warning systems innovated by scientists of Sri Lankan universities. "Authorities need to be better equipped to face the global truth and efficient disaster detection and alerting system could reduce the loss of life and property" Senadeera said. When asked whether Sri Lanka could cope with a grave situation like what happened in Nepal, Senadeera was quick to respond. In Sri Lanka, technology is widely used for early warnings, response and mitigation in the Emergency Operation Centre of the Disaster Management Centre - equipped with high- tech instruments for early warning dissemination and response activities.To rise to such a situation, COSTI is putting an effort to coordinate and convince authorities to implement automated early-warning systems addressing near real-time detection of meteorological natural hazards in Sri Lanka.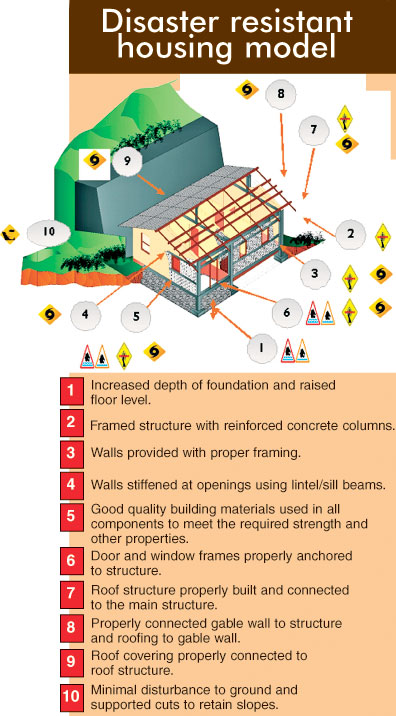 This includes Unmanned Air Vehicles (UAVs), under water vehicles, met buoys for coastal areas, Automated flood indicators, sensor columns for landslides and water quality sondes for rivers and major water ways which is an advanced water quality monitoring device that can be integrated into marine, estuarine, freshwater and ground water monitoring systems," he said.
"We worked closely with the University of Moratuwa, expert civil engineers and architects to bring these innovations on to a single platform," Senadeera said, adding that in an effort to assist the programs to resettle victims, COSTI has a few projects to bring in quick housing solutions', he said.
Talking of the most promising project, project officer Nilanka Karunaratne said discussions were on-going to bring in pre-built houses to disaster affected areas in the hill country' where a house is constructed quickly and it is just a matter of assembling pre- fixed parts of the house. Resettling disaster- affected communities is of paramount importance as poverty and disaster form a vicious cycle in Sri Lanka. "Prior planning is essential when resettling! A rapid housing system is proposed and discussions were proceeding to get funding and technical know-how from a New Zealand company. These are pre-prepared building and it is just a matter of assembling the parts," she added.
Following the killer waves of the 2004 tsunami, a roadmap was designed towards a safer Sri Lanka. Being a developing country policies and well- organised disaster management system is of great importance.
The Disaster Management Centre (DMC) of Sri Lanka and National Building Research Organisation (NBRO) said that disaster and risk management compared to the past six to seven years, were at a satisfactory level and could be handled much better than it was earlier.
Apart from grave issues like tsunamis, these organisations are concerned about the cyclonic situation and floods in the country that could eventually cause landslides. Especially in the areas along the Kelani River, Gin Ganga and Kalu Ganga these measures had been taken where spill levels of the rivers are marked as a warning and safety areas are indicated.
The DMC had identified 14 districts that have landslide risks countrywide and have linked up with the NBRO to educate residents in respective areas to act in an emergency.
Wrong construction practices
"Wrong construction practices is one of the main causes for landslides and earthslips", she said. When people dig mountainous areas and build structures, leaving huge mounds of soil unsupported, obviously these will come crashing down at some point of time," she said.
The NBRO has identified 10 districts with landslide hazards which are Kandy, Matale, Nuwara Eliya, Kegalle, Ratnapura, Kalutara, Badulla, Matara, Galle and Hambantota.
Following a three- year study, the NBRO has prepared a construction manual to guide constructions in slopes and mountains. These guidelines are based on research and studies done by experts from the Universities of Peradeniya and Moratuwa..
"This is to address unskilled construction workers, who have no engineering skills" said
Krishantha Sugathapala, Director, Human Settlement Planning and Training Division of the NBRO.
According to the study, more than 80% of the housing projects are based on non-engineering skills. "Contractors constructing large scale buildings are aware of the techniques in disaster mitigation and their contracts include costs involved. But the carpenter and mason build based on traditional knowledge which does not include disaster mitigating techniques. And this is to help such people," said Sugathapala.