Mom's the world!
Sri Lankan mothers ranked the healthiest in South Asia:
Sri Lankan mothers are among the region's healthiest, ahead of other South Asian neighbours and on par with the Maldives, according to a recent global assessment.
The State of the World's Mothers Report 2015, ranked Sri Lanka, the Maldives and Jamaica 92nd - an assessment which measures how much a country's mothers have their needs as moms met and produce the healthiest babies.
As opposed to this, Nepal and Bangladesh have remained the same as last year being placed 114 and 130, respectively.
India has dropped three points since last year and is ranked at 140. Pakistan and Afghanistan - both countries previously known to have the worst conditions for mothers and children - have dropped even further.
Afghanistan was ranked at 152, falling from last year's 146, and Pakistan was ranked at 149, falling from last year's 147.
Urbanization
To celebrate Mother's Day this year, 'Save the Children' published its 16th annual State of the World's Mothers Report focusing on the urbanizing world and the pathetic situation mothers and children face to survive as towns grow and villages shrink.
According to research, among 179 countries, Sri Lanka ranks 92 in maternal health.
According to the country report in 2014, Maternal Mortality Ratio (MMR) which is the fifth goal of the Millennium Developing Goals (MDG) launched recently, Sri Lanka has achieved considerable success in reducing MMR since the 1940s.
Based on an overall study, the Ministry of Health has estimated the MMR as 39.3 per 100,000 live births in 2006.
This is considered to be the lowest in South Asia with near universal access to health care and 98 percent institutional deliveries.
Sri Lanka is on track to meet MDG standards in improving maternal health but the MMR rates in certain districts in the war- affected areas and in the Nuwara Eliya districts were still low.
A political commitment to reducing maternal mortality has led to the expansion of hospitals and clinics in the country, which women were encouraged to visit for pregnancy care and delivery.
Midwives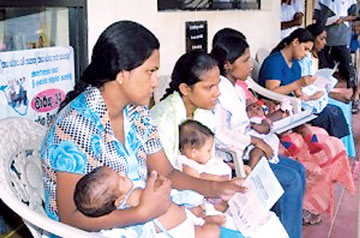 Sri Lankan mothers with their babies.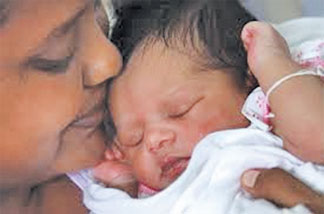 A healthy Sri Lankan mother with her baby.
Photo: State of the World's mother's report (2015)
Each district in Sri Lanka also has a group of midwives responsible for providing basic home care for pregnant women and new mothers.
The maternal mortality rate in Sri Lanka fell from 340 maternal deaths per 100,000 live births in 1960 to just 43 maternal deaths per 100,000 live births in 2005. 98 percent of all births take place in hospital in Sri Lanka, and 99 percent of women have at least one antenatal care visit and skilled attendance at delivery.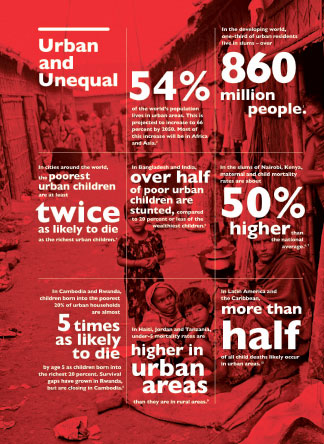 Norway, Finland and Iceland top the rankings this year. The top 10 countries are Norway, Finland, Iceland, Denmark, Sweden, Netherlands, Spain, Germany and Australia. In general, these countries attain very high scores for mothers' and children's health, educational, economic and political status.
The US ranks 33rd. Niger, Congo, Central African Republic and Mali are some of the countries in the bottom 10 countries. Somalia scores last among the countries surveyed.
The worst ranked countries are conflict-affected and considered to be fragile states, which mean they are failing fundamentally to perform functions necessary to meet their citizens' basic needs.
Every day, all around the world 17,000 children die before reaching their fifth birthday. Most of these deaths occur in city slums where overcrowding and poor sanitation exist.
The poorest mothers and children cannot get the care they need. Urbanization has a positive and negative impact on health. Better access to health services, education, sanitation and safe water supply which accompanies urbanization can improve health conditions. When urbanization is rapid it results in poor sanitary conditions and overcrowding.
All of which can accelerate the spread of disease and lead to poor health conditions.
In most developing countries, the poorest urban children are at least twice as likely to die as the richest urban children. In some countries, they are three to five or even more times as likely to die.
---
Reason to be elated
"The maternal death rate has reduced, thus giving us reason to be elated," said Minister of Women's Affairs, Chandrani Bandara attributes it to the successful health programs being carried out by the Government.
"Sri Lanka has shown remarkable improvement in reducing the maternal death rate since 1940 due to the national health programs conducted by the Ministry of Health", she said.
Maternal care has been the focus of the Ministry of Health. Offering a free health service for sometime now has minimized unequal access to health care services, specially for women, she said"
"We are happy according to the report, Sri Lanka has achieved a top slot among 179 countries and is the best place for mothers to be in the South Asian region', she said.
Health care
In sharp contrast, Sri Lanka and the Maldives were ranked 92nd in the World's Mothers' Index.
She further said that the midwife was the frontline health worker, providing health care to mothers and children within the community. Maternal and child health is an important component of the national health policy in Sri Lanka, she said. Sri Lanka has a well-developed health system with a qualified health workforce.
The under five mortality rate per 1000 live births is 9.6 The government provides pre and post natal care for mothers through family health workers attached to all Grama Niladari Divisions. Awareness has been created because of the programs conducted by the government and mothers were now aware of a child's nutrition.
Breastfeeding in Sri Lanka has increased to 76% in 2007.Sri Lanka'spoverty has come down and the earning capacity has increased which has enabled parents to provide a better life for children.