Rajabdeen - ISSME Vice President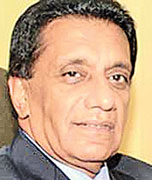 The Board of the International Society for Small and Medium Enterprises (ISSME) in New Delhi appointed former Industrial Development Board Chairman and Past President of the Federation of Chambers of Commerce of Sri Lanka, Nawaz Rajabdeen as its Vice Presisdent.
"I hope to set up a regional industrial development office in Sri Lanka with the assistance of the headquarters in New Delhi to facilitate Micro Small and Medium Enterprises (MSME's) to provide advanced technology and upgrade machinery to increase quality and productivity to be competitive globally," Rajabdeen said.
He said many micro and small industries are sidelined by funding institutions and as a result its growth have been stifled.