Selling: The world's hardest job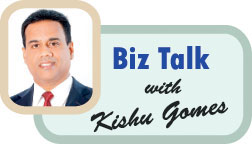 Great coaching and stellar leadership is vital in the uncontrollable market of today. In sports, winning a game depends on a team's willingness to play offensive and 'play to win'. The same is true in business.
Selling is the hardest job in the world but it's the most rewarding and most exiting job too.
That's why an Ordinary Level qualified sales person with superior skills working for a top organisation earns much more than a junior doctor or a lawyer and enjoys above-market perks including a company maintained car.
You have heard the old saying that 'everyone lives by selling something' but here I mean professional sales people. With ever increasing competition, it can become difficult for a sales team to stay focused on achieving goals.
As a matter of fact, newspaper headlines are a perfect excuse for a sales person to say, "I can't hit my targets." As a business leader or manager, your job is to lead, grow and develop your team during all economic times.
Great coaching and stellar leadership is vital in the uncontrollable market of today. In sports, winning a game depends on a team's willingness to play offensive and 'play to win'. The same is true in business.
However, when the competition gets tough or the marketplace becomes uncontrollable, we see companies play defensively by making 'safe' decisions rather than playing aggressively. Business owners on the defence also shift focus from growing the organisation to protecting the organisation.
Playing not to lose
In business there are no ties, only successful teams and struggling teams and 'playing not to lose' most likely guarantees failure.
This defensive mentality usually tolerates bad performance and believes that a bad body is better than no body.
This mentality also accepts that because a team has been successful in the past, they do not need to practise or focus on the core selling skills.
This is common in many organisations. If the team assumes they do everything right, then they seek outside solutions to keep sales up and control profits. The leaders begin asking for additional promotions and discounts, which ultimately cuts into profits.
The competition lowers prices, then the company lowers, and the battle continues until one company can no longer lower its prices. The next proposed solution is to develop a new product or service that the competition does not have, hoping this will bring profits back to the level they were before this uncontrollable market.
When a leader does not believe the profit can be controlled internally by changing the team or strategy, the only option is to rely on outside circumstances causing profits to go down.
Playing to win
The offensive mentality usually doesn't tolerate bad performance and believes that 'no body' is always better than a 'bad body'. If a leader cannot control the competition, the economy or the marketplace, what can be controlled?
The answer is the team and its activities.
The need and want, for most products and services exists in an uncontrollable market, but the reason for the purchase has changed.
A leader's job is to help his team recognise the circumstances and lead them to grow.
A leader is similar to a coach in sports. His job is to coach the team, not manage the team.
A professional football player has been throwing, running, blocking, and catching his entire life - yet he practises five days a week, because to get better one needs to practise.
The game changes, the rules change, the opponents change, and plays change, so he can never stop learning, adapting and growing. Business is no different.
A salesperson who has qualified his customers' needs and closed sales for 10 years needs to practise just as often to continue winning the game.
To control profits in an uncontrollable market is to improve the things you can control to outperform the things you can't. The life-blood of any business organisation is its sales team.
Spend time in building sales abilities and get the team to play offensively to win.
If you are not in sales or do not do a sales related job, support the sales team - after all your organisation's success depends on the success of the sales team.