Securing air travel against threats, a huge task
Many countries are witnessing exponential economic growth and infrastructure development. Simultaneously passenger traffic at airports is growing at a rapid pace.
While in some instances this has led to airports getting congested, Airport operators across the world understand the necessity of offering a smooth, hassle-free and fast experience at security checkpoint areas mindful of modern day threats and security challenges.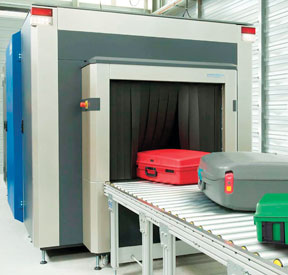 Threats relating to hijacking, bomb and contraband and narcotics have also increased. Thus it is imperative to ensure people's safety.
Securing air travel against such threats is a huge task, leading to additional pressure on airport security personnel. One of the key challenges is getting an increasing number of passengers through safely, securely and quickly without creating unnecessary bottlenecks.
Underscoring the need for thoroughness, security solutions too should be equipped to address the challenges. Equipment should be state-of-the-art, should not breakdown frequently and fulfill high security standards while improving passenger experience.
Smiths Detection is a provider of solutions that ensures a terminal's entire hold baggage and passenger screening checkpoints are specifically designed to detect trace amounts of explosives, chemical warfare agents, toxic industrial chemicals or narcotics and are compatible with customer's evolving needs.
In Sri Lanka too, several Smiths Detection systems have been installed at the main international airport. On site, five cargo and 16 baggage scanning units assist in hold baggage and passenger screening checkpoints.
As a global leader in providing government regulated systems to detect CBRNE (chemical and biological agents, radiological and nuclear threats, weapons, narcotics and contraband), Smith Detection equips customers around the world with high integrity solutions to safeguard society, protect life and support the free flow of trade.
The company has the most comprehensive range of detection technologies in the world today, providing equipment for customers in air transportation, ports and borders, critical infrastructure, military and emergency response sectors.
Smiths Detection was recently awarded a major contract at the Abu Dhabi Airport's new terminal.
In one of its biggest single airport orders, worth $125 million, Smiths Detection will cover the entire screening needs of the airport's new Midfield Terminal including the hold baggage and passenger security checkpoint equipment. This hold baggage system will include the HI-SCAN 10080 XCT, a next generation high speed explosives detection system combining x-ray and Computed Tomography technology. For carry-on baggage screening, Smiths Detection will deploy its aTiX (Advanced Threat Inspection X-Ray) systems, supported by trace detection sensors, bottle liquid scanners and radiation detectors.
The terminal will also install 3D workstations for outbound equipment screening by the police and 2D workstations for inbound screening by Customs. The new terminal is expected to handle the increase in the airport's annual capacity of 40 million passengers.
Smiths Detection has also been awarded a contract for its systems by London Heathrow airport. Valued at GBP 11.6 million, the contract covers the supply of X-ray and computer tomography systems, program management, training and support services.
The awarding of these important contracts are testament to the company providing technologically advanced, integrated security solutions which meet the operational needs of customers worldwide.