Review
A witty story
Sri Lankan 11 year-old Rusiru Kodithuwakkuhas written an entertaining book of poems. we carry below a review of the book by Mike Jenkins.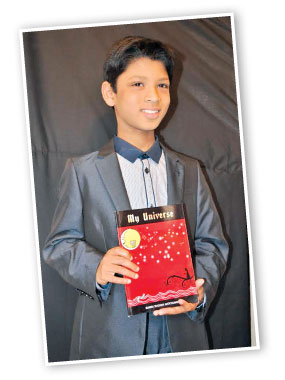 On March 19th at a monthly Open Mic. Poetry evening organised in the town of Merthyr Tydfil in South Wales, 11 year-old Rusiru Kodithuwakku read his poems to a packed and delighted audience.
I knew then that he was a special talent. Not only did he perform with such assurance and maturity, but he also entertained the crowd with poems like 'Ten Things Found in Buzz Aldrin's Spacesuit', a poem he had actually presented to the famous astronaut.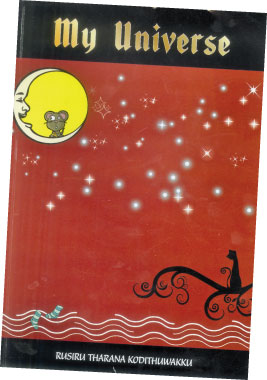 At the launch of his book of poems and stories entitled 'My Universe' ten days later he read with equal aplomb to an even larger audience.
I have little doubt that Rusiru will go on to achieve greater things as a writer, if he continues to develop and show a willingness to learn.
His book displays a wide-ranging vocabulary and a great knowledge of science and space especially, yet he never uses this for its own sake, only to lift off his imagination like a rocket bound for all kinds of destinations.
His poetry usually deploys rhyming couplets and I'm sure he will try to use other more adventurous forms in future, as he has a great variety of approach, from an A-Z poem to one consisting entirely of similes :-
As violent as a gun,
As scorching as the evening sun'
Making couplets sound natural not forced is a difficult task , yet one he manages to succeed in doing on most occasions.
I admire his willingness to experiment, for example there's a shape poem about football and others which soar into space yet are grounded by humour such as 'My shoes took control of me' :-
They started to ignite,
Then took me into space,
They took me past many stars,
I was flying, this was ace.'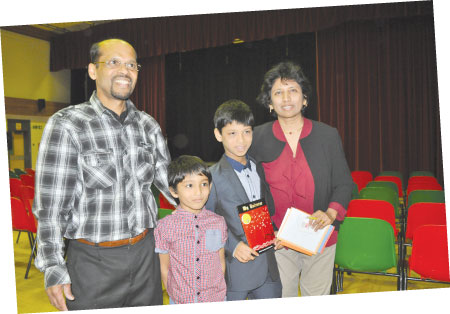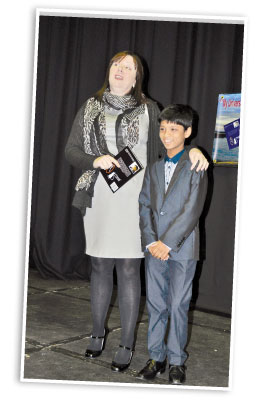 The stories are equally blessed with a rich imagination, particularly ' The Mouse Who Travelled Through Time', which combines his enthusiasm for animals and space travel.
It's a very witty story, where the hero – an extremely clever mouse – ends up travelling back in time on his own time machine to meet Buzz Aldrin :-
' Then the mouse became the first of his kind to do a spacewalk. They wandered about for a while and then suddenly they witnessed the biggest type of explosion in space : a Hypernova!'
Rusiru can also write very effective descriptive verse and 'That Flowing River' illustrates his love of language with all its sounds and senses :-
The river riots against the rocks
It streams so fast it blows your socks
The river rages as the wind strikes hard
Water shatters resembling glass shards.'
My Universe' is a book bursting with the joys of words and imagination. Rusiru possesses what we call in the Welsh language 'hwyl', a true passion in both verse and fiction. Reviewed by Mike Jenkins.