New Asgiriya Mahanayaka Thera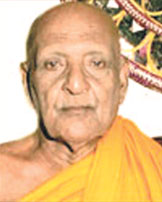 Most Ven. Rajakeeya Panditha Galagama Dhammasiddhi Sri Dhammananda Aththadassi Thera has been elected the 21st Mahanayaka of the Asgiriya Chapter. The Most Ven. Thera was elected after the passing-away of his predecessor, Most Ven. Aggamahapanditha Udugama Sri Buddharakkhitha Mahanayaka Thera recently.
Ven. Arambegama Saranankara Thera who officiated at the Thewawa at the Sri Dalada Maligawa proposed the name of Most Ven. Galagama Aththadassi Thera and it was seconded by Ven. Muruddeniye Dhammarathana Thera of the Muthiyangana Raja Maha Vihara. The new prelate of the Asgiriya Chapter was born on January 11, 1922 and ordained in 1936. He had received higher ordination in 1941.
He was in charge of the Mahiyangana Raja Maha Vihara, Urulewatte Temple of Asgiriya Raja Maha Vihara and in charge of the Alawwa Humbuluwa Temple. He had officiated at the Maligawa Thewawa in 1981, 1999 and 2000.