Franklin Satyapalan no more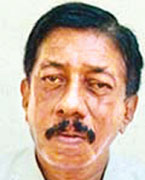 Well known crime reporter Franklin Satyapalan passed away on Friday at the age of 60. Liberal in approach, he viewed things in their proper perspective avoiding narrow, sectarian differences of religion, race and creed.
He was gifted with many lofty values in life probably a legacy he inherited from his formative years at S. Thomas' College, Mount Lavinia. Although nurtured in the Christian background, yet he closely identified himself with his co-religionists having established camaraderie with them. Crime reporting was his forte as he had his radar over the underworld.