Lanka - Australia ties strong despite regime change - Peter Dutton
Visiting Australian Immigration Minister Peter Dutton reassured that Australia and Sri Lanka will continue to enjoy strong relations despite the regime change.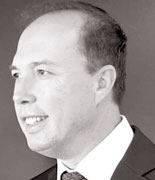 "I could not have been received more warmly," he said, adding, 'during the past couple of days we have strengthened the relationship even further'.
His visit was the first by an Australian government minister to Sri Lanka after the new Government took office.
Wrapping up his two-day trip to the country last week to meet several ministers and Prime Minister Ranil Wickremesinghe, seeking a commitment on the joint border protection exercises, Dutton told a media briefing, the close collaboration between the two governments in stopping illegal boat arrivals to Australia and assistance for development work here will be carried out as usual.
The visiting Minister did not directly answer a question that the illegal boat journeys had the blessings of the 'Rajapaksas' instead he said the assistance from the Sri Lankan Navy, Customs, law enforcement and intelligence agencies to their efforts had been firsthand.
He also denied that tougher immigration criteria on third world applicants had prompted the people to venture out on boat journeys.
Hinting that his government was following up on the returnees well-being, he said,"We take our international humanitarian obligations seriously."
"We assure ourselves the circumstances are best when we return people, " he said adding that the Abbot government had significant friendship and trust in Sri Lanka's government, that they can return and exchange information on people who have come to Australia illegally.
Asked if the boat arrivals from Sri Lanka or from the refugee camps in South India had diminished after the regime change here, he said he could not draw a parallel between the two. Dutton said the country had seen a decrease in the number of boat arrivals, since the launch of its 'Operation Sovereign Border'.
From 2008 to 2013 Australia struggled with a surge of 52,000 people arriving in 820 rickety boats and some 1,200 people perishing at sea. The number of arrivals gradually diminished, since Australia introduced off-shore processing centres and denied these largely economic migrants Australian citizenship.
-MF