No Confidence against Ravi
Motion in Parliament next week: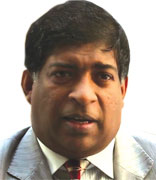 The main Opposition UPFA yesterday said that they would hand over a No Confidence motion against Finance Minister Ravi Karunanayake to the Speaker next week, containing 15 main allegations.
Over 90 UPFA parliamentarians have already signed the No Confidence motion.
The Opposition is likely to ask for about three days to debate the no confidence motion UPFA Colombo District parliamentarian, Bandula Gunawardena, told a media conference at the Abhayarama temple, Narahenpita yesterday.
The vote on the No Confidence motion will be a clear testimony to identify those who work to destroy the country and oppose such a move. We have no personal dispute with the Finance Minister and we are fulfilling the role of the Opposition, he said.
MP Gunawardena said that the Opposition is also drafting a No Confidence motion against Prime Minister Ranil Wickremesinghe who is running a minority government with 42 MPs.
Minister Karunanayake has no moral right to accept a reputed portfolio such as Finance who allegedly had links with Raj Rajaratnam, a TRO financial provider and is imprisoned in the United States due to financial crimes.
"Karunanayake may be the world's first person who was offered the Finance Ministerial portfolio when he is charged with a foreign exchange fraud.
This would also be a Guinness Book Record. He would also go down in history as a politician who appeared in courts in the morning and presented the Government's interim budget in the evening on the same day. After the Central Bank Governor Arjuna Mahendran committed the biggest ever treasury bond scam, even before investigations began Minister Karunanayake freed him from those charges and said that he had issued Treasury bonds in a transparent manner.
The Finance Minister by making such public statements had deliberately attempted to mislead the financial market.
MP Gunawardena alleged that the irresponsible conduct of the Finance Minister had caused irreparable loss to the financial market, share market and investments. It has also been reported that various threats had been made to professionals and participants in those markets.
The acts on the part of the Finance Minister had also an adverse effect on the country's interest rate, exchange rates and foreign exchange reserves. The Finance Minister and Central Bank Governor had helped create a financial crisis, he said.
The Opposition also defeated the resolution moved by the Finance Minister seeking the approval of Parliament to issue Treasury Bills not exceeding Rs. 400 billion more in addition to the earlier Rs. 800 billion. When this kind of things are defeated, the Finance Minister should resign his portfolio immediately he said.