'I do' before 'I die'
A moment of brave humanity in the face of pain:
Last week, an Australian man on death row in Indonesia had his last wish granted: to marry his fiancée. The Telegraph's Jemima Thackray questions the sense of committing to a life-long union, when one of the couple is about to die
An Australian man on death row in Indonesia, Andrew Chan, has had his last wish granted: to marry his Indonesian fiancée.
Chan along with eight other Australians, was arrested in 2005 for trying to smuggle heroin out of the country to Australia.
Indonesia executed Chan and fellow Australian Myuran Sukumaran, along with six others convicted of drug charges, including a Brazilian man, four Nigerians and an Indonesian man. A Filipino woman was given a reprieve of sorts. The prisoners were given 72 hours notice of their executions.
It was under these conditions that 31-year-old Chan wed Febyanti Herewila at a ceremony believed to be in the prison, just hours before he faced the firing squad.
"It's tough times but it's happy times at the same time," said Michael Chan, the prisoner's brother. "It was an enjoyable moment. We would just like to celebrate that with him tomorrow as well." Putting aside the ethical questions about whether a convicted criminal should have the right to marry, some readers will be unmoved by the final act in this man's life.
Indeed, all 'death bed' weddings can be as easily dismissed.
Pragmatists may ask what the point is in committing to a life-long union, when one of the couple is about to die.
Feminists may wonder whether this is a selfish attempt by a man to make a mark on the world, by tying a woman's life to his forever.
Cynics may ask how much money is involved. But to the outsider - based on the information we have - there are no practical benefits to this union.
It certainly won't help the grieving spouse. We might hope that the marriage will knit the widow into a wider family which will support her. But from my pastoral experience this is rarely the case.
I recently met a woman whose sister had married in hospital, just days before dying of cancer.
Despite the love poured out on the day, contact with the groom rapidly diminished as he retreated into his own lonely place of grief - just the same as if the couple hadn't married.
I'm not for a second comparing someone who has cancer to the fate of a prisoner on death row. But, in both situations the impending death of one partner cannot be ignored.
Touching image of Chan's wedding
A leaked bittersweet video of Andrew Chan's wedding to his fiancée at Besi prison reveal a happy moment amongst what has become a devastating week for his family.
Chan married his fiancee, Febyanti Herewila, at Besi prison on Nusakambangan Island, one day before his execution.
Both families were apparently banned from recording their last moments with Chan and Sukumaran, and both families are believed to be dismayed following the leaking of the wedding video.
The wedding was apparently filmed by the Attorney-General's and prosecutions office and then leaked to local media, News Corp reported
Following the nuptials, Michael Chan said his brother had celebrated on Monday night with his new wife.
"They have had a celebration inside the prison this afternoon, with close family and friends," he said.
"It was an enjoyable moment. We would just like to celebrate that with him tomorrow as well.
"It's tough times, but happy times at the same time."
Andrew Chan and Myuran Sukumaran were executed by firing squad in the early hours of Wednesday morning after spending 10 years on death row.
-7News
It makes no practical sense at all. But some things just too deep to be practical about. Despite opening myself to accusations of sentimentality and Hollywood romanticism, I believe this couple have done something incredibly beautiful and brave.
Marriages that occur in these kinds of desperate circumstances are an expression of defiance and courage in the face of tragedy, pain and death.
Despite pleas for clemency from the Australian government, the groom was killed by firing squad - three guns fired into his chest.
Regardless of the seriousness of his crime, this act of state-sanctioned murder will seem unjustified and devastating for all involved.
It is indeed a barbaric tragedy that must be raged against, even paradoxically through the love expressed in marriage.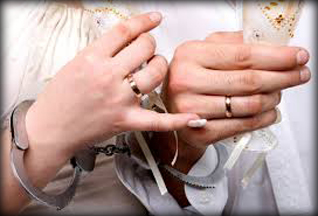 This couple didn't fulfil any of the criteria for marriage according to the ceremony we are used to in the UK; they didn't enjoy the 'tenderness of sexual union', or 'grow together in love and trust', and their union wasn't 'a foundation for family life'. But marriage is also something else, a sign of something very powerful, regardless of how transient that is.
In the church we call it a 'sacrament' - meaning a sign of the divine love that is poured uniquely into humanity and which then flows out to others.
But all major spiritual traditions understand marriage similarly.
The former Chief Rabbi Lord Sacks puts it beautifully: "when a man and woman turn to one another in a bond of faithfulness, God robes them in garments of light, and we come as close as we will ever get to God himself, bringing new life into being, turning the prose of biology into the poetry of the human spirit, redeeming the darkness of the world by the radiance of love."
Regardless of whether you believe in a divine origin of this 'radiant love', the message is the same, and it is a vitally important one for Chan's family and in the face of a regime that still practices such inhumanity.
In this context, marriage is a sign of the human instinct to create and preserve, even when our fellow humans can stoop so low, when the human condition seems so futile, when things fall apart.
Andrew Chan and his wife may never have children. But they have fanned the flames of the human spirit, inspiring others to endure, protect and treasure all that life has to offer.
-Courtesy The Telegraph