Courting death to stay awake
Chewing betel may keep the bus drivers and conductors alert but it also makes them prime candidates for oral cancer :
A sharp rise in oral cancer in Sri Lanka has prompted health authorities to reiterate its warning on betel chewing, which is directly linked to the spread of oral cancer. However, recent news reports claiming it affected bus drivers and conductors more than any other groups have met with mixed reactions.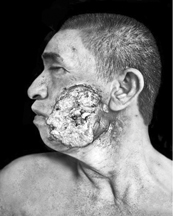 "Betel chew has over 30 carcinogenic substances. Areca nut has four and the tobacco leaf the balance. There is evidence to prove this," Director, Cancer Control Campaign, Dr Eshani Fernando told the Sunday Observer.
Citing statistics, she said data collected in 2008 had revealed there were 2,107 new cases of oral cancer, the majority of which were caused by betel chewing, smoking and other factors. She said 2 to 3 persons die of oral cancer in Sri Lanka every day and that the survival rate after five years of oral cancer was around 50 percent.
Dr. Fernando however refuted recent news reports claiming that oral cancer affected largely bus conductors and bus drivers in Sri Lanka. "There are no such studies to prove this," she said, insisting that there were no reports to show a particular group being affected by oral cancer more than others. But she admitted that it was a fact that oral cancer is commonest among those who chewed betel . "Any person whatever his occupation may be could get oral cancer if he chews betel as a habit daily," she said.
She further said that while the incidence of oral cancer caused by tobacco smoking had come down due to more awareness raising through social media, the same could not be said about oral cancer from tobacco chewing (betel chewing).
"We are concerned that the habit of betel chewing is now spreading among young persons, including school children, who according to our information, are now increasingly purchasing arecanut in packet form e.g. babul. Nicotine, which is present in the tobacco leaves have additive property, while arecanut is a carcinogen," she warned, adding that those who haven't started this habit should never begin as it is addictive.
Abstain
It was encouraging to find a few exceptions among these betel chewing bus drivers and conductors who not only abstained from the habit, but even took it on themselves to advise their colleagues to stop chewing betel altogether. .
Delay
So why should a delay to reach their destinations pose such a huge problem to these drivers?
The following example given on grounds of anonymity explains why.
"Take the run from Fort to Elakanda where the route is divided into two sections. A bus going on one route (the longer one) has to reach its destination in 45 minutes. A bus using the shorter route is given just 13 minutes to reach its destination.
A delay of one minute could end up with the conductor and driver having to fork out Rs 100/- to the owners, no small sum considering that a conductor gets only 10 percent of the total earnings and the driver 12 percent. Which means having breakfast is out. But we have about 20 minutes for lunch. If we miss that due to a breakdown, our only comfort is the betel chew."
Who is most at risk?
So are bus conductors and drivers more vulnerable to oral cancer or not? Does the nature of their particular occupation force them into habits like smoking and betel chewing, which puts their lives on the line? We posed this question to a cross section of bus conductors and drivers in the Fort. Their response was not only enlightening but gave new insights as to why betel chewing is common among this particular breed of workers.
---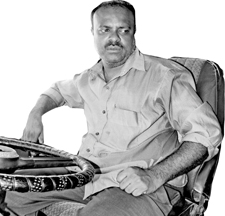 Sanjeev who hails from Tangalle and has been driving buses to various parts of the country for the past 16 years is a regular betel chewer. He admits he takes at least three to four betel chews on a daily basis. "But that is only if I have to do a long distance run. Chewing betel helps to keep me awake," he says. He points out driving especially at night to his final destination on time is not easy, especially on an empty stomachm with no time for even a coffee break. So chewing betel is his only means of keeping him from falling asleep at the wheel.
Does he know the health risks of betel chewing? "Certainly. The "saukya amathyansa dosthara mahaththayas" (health officials) have regularly discussed this subject with us. But what other options do we have to keep ourselves from falling asleep, while racing on the roads to meet our allotted time schedules?" he asks.
---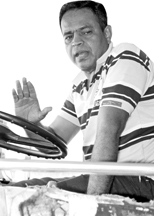 Ratnayake on the other hand chews betel for just the opposite reason. It helps him relax.
"I have to be at this bus stop by 5.30 a.m. even after a night of long distance driving. So once I have a quick breakfast, I have a betel chew to relax me," he says, adding that he always washes his mouth with a glass of water after his chew, "to avoid the risk of oral cancer about which we have been warned by the health officers".
---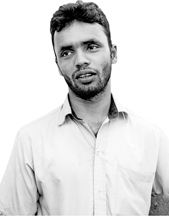 Thusitha is a chained betel chewer. At 25 years his otherwise perfect teeth, which are already badly stained brown, bear evidence of this fact. "I chew betel at least 3-4 times a day and sometimes more when I'm under stress," he says. Aside from his job as a conductor, he believes his farming background, where it is customary to have a betel chew immediately after lunch, may have instilled this habit from childhood days. Knowing the risks however, he says he is determined to kick the habit. "I know I can. I don't want to end up with oral cancer," he says.
---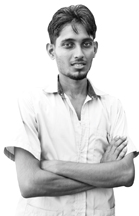 Young Amila Prasanna, a conductor, said he was well aware of smoking tobacco and chewing betel. "I once worked with a non governmental organisation which was raising awareness on the subject. Neither I nor my driver, Priyantha Norshan, smoke or chew betel. But we do know that many drivers chew betel to avoid falling asleep at the wheel. Perhaps the authorities will be able to come up with a good solution in the near future".
---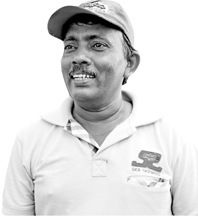 Timekeeper Tyronne who supervised the schedules of the buses on the 107 bus route from Fort to Elakanda, agrees: "If I see any of my colleagues chewing betel, I make it a point to discourage them, by telling them my personal experience of how a close friend of mine, a skilled mason had been reduced to a mere skeleton unable to eat or drink due to oral cancer, which he got as a result of sleeping the entire night with a wad of betel chew in his mouth," he says.
This was confirmed as a fact by Cancer Control authorities who admit that the risk of getting oral cancer increases significantly if the betel chew is kept inside the mouth for a long period of time.