Epiphany on a bike
Two friends on a motorbike-riding world tour find new meaning to life:
"Twenty years from now you will be more disappointed by the things that you didn't do than by the ones you did do. So throw off the bowlines. Sail away from the safe harbour. Catch the trade winds in your sails. Explore. Dream. Discover." The evocative words of Mark Twain, comes to mind when talking with the two 21st century 'Che Guevaras' from Switzerland and Italy, who gave up their comfort zones and threw off the bowlines, just for the sake of 'common' thirst of exploring and discovering the world.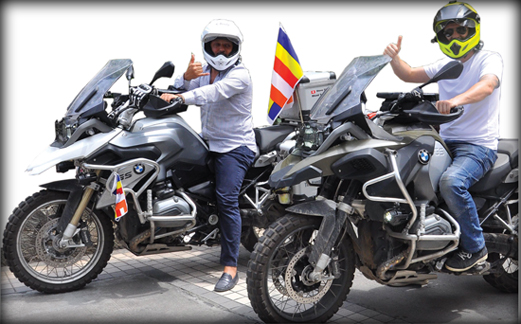 Max (30), born in Geneva, Switzerland, and Steve (38), born in Italy, have known each other, as they describe, forever. After living abroad for several years, Max, who is the great grandson of Linus Pauling winner of two Nobel prizes for chemistry and peace in 1954 and 1962, developed an urge to explore the world and experience some adventure.
A 'Trans-continental motorbike trip' had been his dream for the past two years. Initially he planned a solo trip from Zurich to Singapore and after several months of research, when the idea became more and more plausible, he began to worry about safety issues.
He was not sure whether he was up to the task of crossing several countries, through mountain ranges and deserts on his own. Max reluctantly gathered all his research and put it into a box, promising himself that there'll be a right time soon to realize his dream of exploration.
Adventure plan
Meanwhile, Max's forever friend, Steve was back in Geneva after his Royal Endfield adventures in Northern India. Steve was thrilled about Max's adventure plan, and only wanted to join in, he was confident they could do it together, and convinced Max to expand the trip beyond the original plan. The dream of a world tour began to become real, palpable shape and Max found his missing-half to fulfill the dream, which he locked up in a box a few months earlier..
From the very next day the two friends began planning their life-changing journey and this time they wanted to do more than just a ride to Singapore. In fact they wanted to see everything!

Asia and South America are the two continents Max and Steve love most, but these were also the two continents they had least explored. The two began seriously perusing the world map, trying to figure out the best way to explore the world. They then decided they would ride to Asia and fly to America. And presto, a World Tour was launched!
The revolutionary world tour of Max and Steve began six weeks ago, on March 15, 2015 and in the next 12 months and a few days, they hope to cover 42 countries. Their mode of transport is the motor bike, again the same method used by the revolutionary Che and his friend Alberto. However, this time 'the mighty one' that they have chosen is the BMW GS.
They say these bikes were an obvious choice because of the BMW's history of bringing riders safely around the world for 35 years and the brand's unbeatable worldwide service. As Max is crazy about motor bikes and knows every bit of motor bikes, this is the ideal vehicle for them.
12 countries and counting
So far they have travelled across 12 countries starting from Switzerland and riding across to France, Slovenia, Croatia, Bosnia, Montenegro, Albania, Greece, Turkey, Georgia, Armenia and Azerbaijan before moving on to Sri Lanka.
Although Sri Lanka was not in their initial plan, Max's father who is a regular visitor to Sri Lanka, convinced the two friends to make a detour and slot in Sri Lanka into their travel plans, extending their journey by a few days.
When this writer met the two friends, they had just about wrapped up their Sri Lankan visit and were planning the next segment of their journey - to India.
Watching the two friends relaxing the question that comes to mind is from where did they get the inspiration to travel around the world? Although it was their childhood dream to explore the world, it was a drawing found by Max's mother in the basement of the family home where most of Max's childhood memorabilia was being kept, that reawakened the dream.
"It was an amazing drawing by Max when he was only six or seven years old and it was the earth and a motor bike! Actually travelling in a bike is Max's idea, which I thought was a limitation at the initial stage of discussion.
However, so far it is a really great experience," says Steve, while Max believes they could experience more of the evolution of transition from their home town and the regular lifestyle into different lifestyles because of their mode of transport.
A cultural experience
"By travelling in motorbikes we could expose ourselves to the gradual changes of weather, and the different languages, cultures and traditional practices, which I don't think we could experience by travelling in any other form of transportation," he elaborates. Talking about the difficulties they've been going through so far, the travelling twosome agrees that changes in weather patterns are the most important factor they pay attention to. "It is a nightmare to imagine travelling in a motor bike in bad weather conditions. So when deciding the route we consciously avoided the winter time in Europe," Steve said.

Recalling the mesmerizing experience they've been going through so far, they admit that Greece is one of the places that gave them unforgettable memories. "We had an amazing time while travelling through Greece," they say claiming that Greece had experienced one of the worst winters this year and though it was wet and cold, they had fond memories of riding through Loannina to Volos, Chalkida and Athens.
"On our ride from Loannina to Volos we rode through the Pindus mountain range in the clouds and escaped to the other side right next to the most magical and mystical places we have ever been.
Funny and memorable
The clouds were engulfing the scenery. All we could do was try and follow the road signs to hopefully climb above them. However, stopping at one of the view points and gazing into the white nothingness, all of sudden a mystical monastery appeared through a small opening. Being there with that kind of weather made it memorable," says Max, elaborating that they had a similar experience riding down the Island of Evia, while travelling through a forest, but finally seeing the sun instead of the monasteries. Their journey is filled with many adventures, funny and memorable. Both Max and Steve reflect on the many, many times they took wrong turns and ended up in some of the most amazing places.
As Steve explains, this is a life changing journey where he has been learning to live in the present moment and accept whatever happens in the middle of the journey with an open mind. "This I would call road surfing. It is like giving yourself to the right wave to bring you where you have to go," he says, admitting that it is terribly painful at the beginning to let go of things.
"After living a highly secured life, where you know what is going to happen the very next moment, suddenly having to change it into something that you don't know and just wait without controlling your life is not easy at all. However, as far as I have realized, that is the ultimate salvation in life and that's why we continue this self-funded journey. Because this is a lifechanging travel for both of us," he adds.