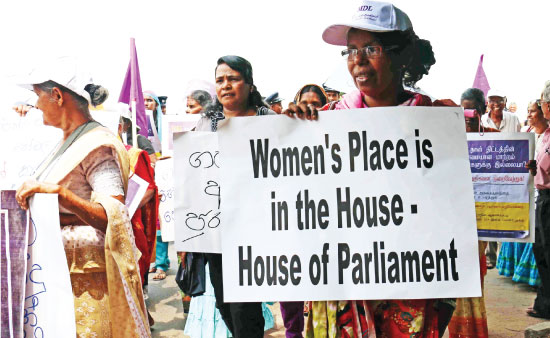 Electoral Reforms:
Where are the women?
As the discussions and debates around the 20th Amendment and electoral reforms intensify, it is disappointing to note that there is no conversation flagging the abysmally low representation of women in Parliament (5.8% at present), nor any political will to introduce special measures to increase the number of women Parliamentarians. Despite promises in the manifesto of President MaithripalaSirisena to bring in measures to increase women in governance, and despite 20 years of campaigning by women's groups to bring in affirmative action for women, we are once again faced with the deprioritisation of this extremely critical issue of the under representation of women.
Given that 51% of the population is female, it is indeed surprising that consecutive governments have not identified and addressed this need for representation, resulting ingender insensitive legislation and policies, and continued systematic discrimination against women. As the Cabinet subcommittee moves to discuss the proposed electoral reforms this week, it is imperative they address this critical gap in our country's political system.
Historically, women's representation in Sri Lankan politics has always been low. Post- independence, the percentage of women in Parliament has never risen above 6.5%. Women in provincial and local government have fared no better, with the numbers consistently stagnating at 6% and 2%respectively.
This has led to Sri Lanka's reputation as the South Asian country with the lowest female political representation, and it is ranked 130 in the world for percentage of women in Parliament.
Given Sri Lanka's high development indicators it is certainly strange that political parties cannot or will not find qualified women candidates to nominate for elections. The historical trends show that no mainstream party has ever nominated more than 4% of women at a single election.
The experiences of women already involved in local government show us why. While women organisers are used to mobilise the female vote for male politicians during elections, they receive no support in the growth of their own political careers.
Back of the line
The lack of internal party democracy and absence of women in decision making positions within the party, as well as political patronage systems and a lack of commitment to good governance have resulted in women continuously being pushed to the back of the line.
Women's groups have put forward the following proposals vis-à-vis the proposed mixed electoral system:

1. 165 First Past the Post seats

Reserve seats for women – electorates that have a majority of women be designated only for women candidates or one electorate per district be allocated only to women candidates. This electorate can be selected on a rotating basis. This ensures that women will get 22 seats.

Similar provisions have been made in India and elsewhere. Alternately, mandatory nomination of 25% women, as candidates in nomination lists: this ensures that women are given the opportunity to contest the First Past the Post seats

2. District Proportional Representation List

We propose that the district proportional list be larger than the currently proposed one which is limited to 31 seats, and that at least one appointment from each District PR list should be a woman.

3. The National List

The national list has a limitation of a maximum number of 59 members, but this could go down to 37 in the event of seats being allocated from the overhang. Thus the demand is that every 2nd appointment from the National list be given to a woman.

4. Multi Member Constituencies

Given the probability that some electorates may be designated as multi-member constituencies, a minimum of one woman candidate should be nominated to contest these seats.
The violent political culture and high monetary costs involved in campaigning are also barriers to women entering politics. Given this situation, it is imperative that the electoral reforms bring in affirmative action for women, to counter the institutional and structural discrimination they face because of their gender. This will also increase the opportunities for minority women, who are further discriminated against because of their ethnicity and religion. Affirmative action, or positive discrimination, is a process used to promote the progress of a historically disadvantaged group, to achieve substantive equality.
More than 100 countries around the world have some form of affirmative action for increasing the number of women in government, either through mandatory or legislated reservations, or voluntary quotas for nomination lists adopted by political parties. Women in post-war Sri Lanka have faced a number of issues unique to them, such as vulnerabilities faced by female-headed households and single mothers, women with disabilities, and the rise in domestic and gender-based violence, which need to be legislated for by elected representatives who are aware of and sensitive to women's needs.
Opportunity to participate
The 94% male parliament has proven time and again that they are woefully unequipped to play this role. That being said, women's issues are not the only concerns women have. Sri Lankan women have consistently excelled in all sectors, be it education, science, business, medicine or law. Now, they need to be given the opportunity to participate in the political process, not just as voters but as elected members and active proponents of social, cultural and economic change. It is in this context that the Collective for Gender Reforms in Politics urges the President, Prime Minister, Cabinet sub-committee on electoral reforms, Members of Parliament and political parties to prioritise the issue of women in governance, and introduce means of ensuring at least a 25% representation. The proposed mixed electoral system will not be beneficial to women seeking to enter Parliament, and given the reluctance of political parties to nominate women, it is essential that the 20th amendment includes a reservation for women. In the spirit of yahapalanaya, the reforms process should follow good governance principles.
They should be conducted through a transparent and inclusive process; ensure proportional representation; address the under-representation of women and commit to increasing women's access and opportunity for nominations; and address the lack of internal party democracy.