The tears of an elephant
Shackled and injured a baby elephant at the Kataragama Devale is subject to daily abuse: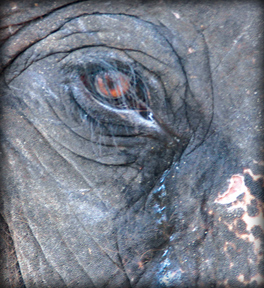 Many are blind to the pain and agony of a baby elephant at the Kataragama Devale. While there are other such places, with the crusade against cruelty to animals rampant, who should take responsibility of caring for these innocents, or at least the vulnerable elephants?
August 29: The day was ideal for a journey with the family, but what wretched spectacle awaited me I hadn't the slightest clue. My family had long planned the trip to the pilgrimage town sacred to many - Kataragama - as it was the Kataragama Devale season.
Having stayed over at Tissamaharama, we left early the next day to take part in the special morning poojas despite the milling crowds that were gathering. There were queues virtually miles long, carrying offerings - 'pooja vatti' - to the Gods.
In the vicinity of the Devale was an elephant calf that would have been freely running and playing along with other baby elephants under the care of its herd if it was in the jungle. But sadly it wasn't.
The reality was different, callous and near brutal. The elephant, barely 15 years, was tightly manacled on both front and hind legs.
It had deep painful looking gashes on all four legs due to being chained over a long period. It was fanning the wounds with the trunk, trying perhaps to soothe the burning sensation and keep out the flies.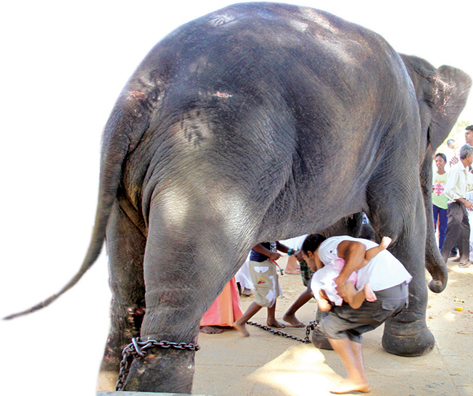 One could fault the temple authorities for neglect and disregard for the elephant's wellbeing.
But what kind of inhumanity drives them to abuse the already traumatised and hurting animal to cash in on the superstitious beliefs of the hoards? For, the real tragedy here is both the cruelty of the temple officials, who keep the elephant shackled and charge Rs 100 to grope it and crawl under it, and the god fearing, loving, kind and caring devotees who pay the Rs 100 and don't give a second thought to abusing and even hurting the hapless animal in their quest to appease the gods, invoke their blessing and receive their bounties. Compounding the cruelty is the many photo opportunities they create out of these inhuman moments, posing in front, under and behind the elephant for that perfect picture.
I just stood there, stunned, appalled, unable to believe how the god fearing, loving and caring devotees could be so blind to the anguish the poor elephant calf was going through, chained and traumatised.
There were pregnant women, elderly people and parents kneeling, rolling or trying to roll from under the elephant to achieve happiness, while the elephant was visibly in tears, either because of the pain caused by the tight shackles, or at the sight of how blind humans can be.
Pix and story by Mahinda Vithanachchi