SAPPERS 4 X 4 GYMPO 2015 :
Thrills, spills and excitement galore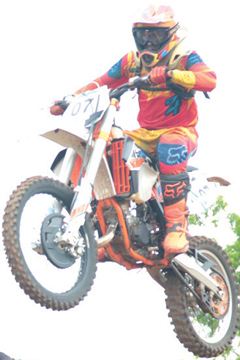 'Sappers 4 x 4 Gympo 2015', the pioneering off road event of the Corps of Sri Lanka Engineers, took place at the Sri Lanka School of Military Engineering premises at Thunkama, Embilipitiya, last Sunday (September 20) to the cheers of thousands of excited spectators.
The event, organized for the fifth successive year was opened ceremonially by Major General Channa Goonetilleke, Commandant of the Sri Lanka Army Volunteer Force and Colonel Commandant of Corps of Sri Lanka Engineers.
In consistent with international rules of the 4 x 4 sport, the highly competitive setting with many thrills and spills around the school premises saw standard vehicles, standard modified vehicles, under 3000 cc vehicles, over 3000 cc vehicles, extreme class vehicles and motorbikes, competing enthusiastically in separate categories as this new experience stunned the gathering.
A total of 86 local riders, two foreign riders, 10 local teams and four foreign teams (drivers) from Australia, India and Malaysia contributed to this exciting event in the Corps of Sri Lanka Engineers calendar of important milestones, together with several international Media representatives from India, Russia, Thailand and Lebanon.
The 'Sapper 4 x 4 Gympo' was powered by VVK Machinery & Equipment (Pvt) Limited, as the principal sponsor and co-sponsors were SENOK Trade Combined (Pvt) Limited, Swedish Trading Company (Pvt) Limited, Sri Lanka insurance, CEAT, Singer, Elephant House.
Funds collected from this mammoth event will be used for the benefit of families of fallen War Heroes, disabled War Heroes, serving War Heroes and other members of the civil staff attached to the Sri Lanka Engineers.