EVENT
When Lanka's Elvis plays Jim Reeves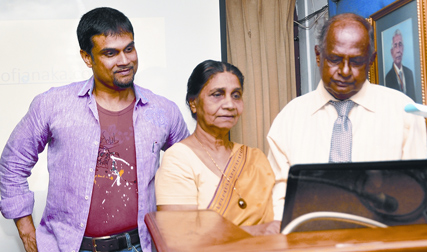 As the countdown begins for when Lanka's Elvis, Janaka Palapathwela, does Jim Reeves proud, and for a good cause at that, Malik Carder, MC for the Show planned for next month, explained why Jim Reeves. But Rev. Ebenezer Joseph, General Secretary of the National Christian Council of Sri Lanka (NCCSL) explained it better, when he said that reconciliation starts from within and that the songs of the late legend Jim Reeves, touches your heart, is very meaningfully put gather and is always soothing. The show is after all being held to garner funds for the Peace and Reconciliation work of NCCSL, healing the wounds of many persons in our Country.
The Jim Reeves Show will commence at 6.00 p.m. at the Bishop's College Auditorium on October 11, 2015, with Janaka Palapathwala performing with an orchestra, with backup vocals from the Choro Calibre Singers. Music will be directed by Suresh Maliyadde and Naveen Fernando will be the Orchestra Conductor.
Tickets priced at Rs. 5000 (VIP) - Rs. 3000 - Rs. 2000 - Rs. 1500 are available at Bishop's College Auditorium, Torana Liberty Plaza, Yamaha Music Centre - Col 7, Coconut Lounge - Col 7, Abans Main Showroom - Kollupitiya, Chamathka Jewellers, Vision Care - Crescat, Sadeepa Book Shop - Borella, Sarasavi Book Shop - Nugegoda, Maharagama, and Vanapetha Book Shop - Dehiwala.