Young Contemporaries Art Exhibition:
Making their mark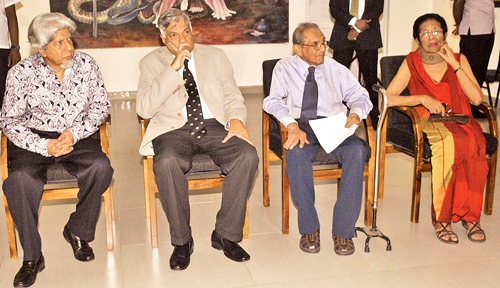 In what was a peek into what the future had in store, in terms of artistic talent, 34 young artists showcased their amazing, colourful and evocative creations at The Young Contemporaries Art Exhibition, held at the J. D. A. Perera Gallery, University of Visual and Performing Arts, in Horton Place, Colombo, late last month.
The exhibition, organised by the George Keyt Foundation since 1999, was inaugurated by Prime Minister Ranil Wickremesinghe, who was the Chief Guest.
Cedric De Silva, Chairman, George Keyt Foundation explaining that the Foundation was set up in 1988, said it was done so for the assistance of all talented artists, to give them opportunities and to enable them to make themselves known. One of the three major events organized by the Foundation in this endeavour is the Young Contemporaries Art Exhibition. The others are Kala Pola, and Sri Lankan Art.
Here we profile three of the young artists who had their work on display at the Exhibition.
Emotionally charged
Kavinda Silva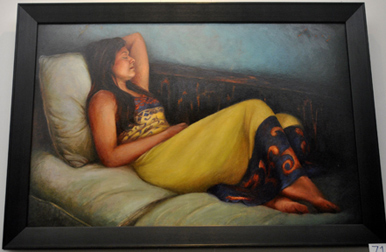 - An emerging young artist, Kavinda Silva's three paintings on exhibition are titled 'Golden Yellow', 'Wake-up Call' and 'Reminiscence'. He says he was inspired by 19th century European artists and the Naturalists as well as the Old Masters and the Impressionists. He likes Modern paintings to a certain extent but says it is not his area. His favourite medium is oil on canvas and he prefers to draw figures rather than landscapes. His paintings are beautiful and are marked by attention to details.
Kavinda initially studied art on his own but later attended a six-month course to fine tune his skill. When asked what art means to him, Kavinda responds: "It's my passion." His emotionally charged paintings bear testimony to it.
Kavinda has completed his degree studies in the science faculty and is interested in Information Technology. He was a student of St. Sebastian's College, Moratuwa.
Playing with light and shadow
Senani Senanayake
According to Senani what inspires her to draw is perhaps her mood at a given time. She tries to capture the light and shadow in her art work, and it's understandable that her favourite medium is charcoal, which she likes to smudge with her fingers.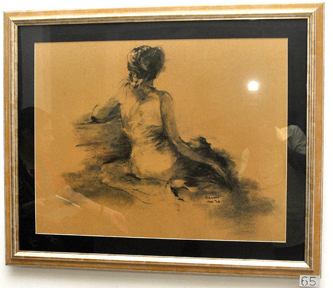 The untitled portrait of a lady is done in Conte, which is a medium that is made out of clay and pigments and there are many colours. Senani chose light pink because it gives an oldish look and she uses off-white paper. She selects her models based on their features and their posture.
She also likes oil on canvas but says it is time consuming and requires a lot of space, although it is very easy. Senani says no one in particular influenced her to paint and that she has been drawing since childhood. Even when she was in school, she would sketch faces on her exercise books and get scolded by her mother for doing so.
After Senani got married and had children, she could not draw for a long time, but it was always at the back of her mind. She wanted to start drawing but she did not have the time. She came to know that Chandraguptha Thenuwara was having art classes close to her home and started attending his classes and since then her drawing methods have improved significantly.
When asked what motivates her to paint, Senani says, "Painting relaxes me and I feel that I have achieved something. I think I have a little talent and that I should use it and I feel that I'm not using it enough. If you keep on practicing you improve a lot. So I draw a little once a week and it means a lot to me. I just go into a trance and I draw and it relaxes me because it's something different from my life with the children and the household."
Senani is a homemaker and flew for Sri Lankan Airlines for eleven years before she got married. She studied at Newstead College, Negombo.
Rustic rural life
Renuka Dias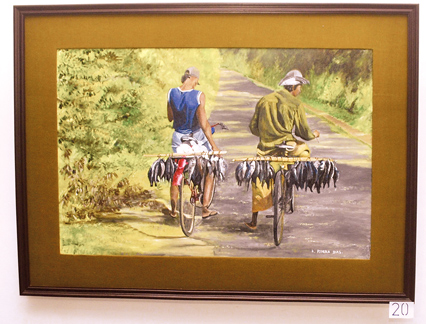 The picture perfect paintings titled 'Baby Elephants', 'Hope' and 'Harvest' captures the essence of rustic rural life in Sri Lanka. Renuka Dias does not look at pictures to draw, but is inspired by what she sees. She painted fishermen from Polonnaruwa, baby elephants playing in the water in Udawalawe and farmers planting seeds in a paddy field, after her visits to these places.
Renuka says she was touched by the hope and expectations the farmers have of reaping a good harvest while planting the seeds. A recipient of the Youth and the Kalapathi Award, Renuka says it was her teacher, Sunil Lakshman, who taught her to draw and paint when she was a student of the Sri Lanka Art Society.
Renuka, who studied art from childhood, did a three year course in art after she completed her Advanced Level studies, and later went on to participate in competitions. She had her primary education at St. Anthony's College and her secondary education at St. Joseph's Balika Vidyalaya, Colombo. Renuka is married and is a mother of two daughters.