Children's Day at the National Cancer Hospital, Maharagama:
A happy respite
| | |
| --- | --- |
| Dr. Tissa Disarathne | Dr Deepal Perera |
As celebrations go, spending the day with children suffering from cancer can be a poignant experience. It can also be special. And it was on October 1, when Sunday Observer staffers joined students from several school and institutes to celebrate Children's Day with the children at the National Cancer Hospital, Maharagama.
The students came bearing biscuits, sweets and special treats. The Sunday Observer staffers took copies of Junior Observer and Mihira, hopeful the fun stuff in the kiddies papers would be good substance for the mind and soul.
For the kids, many of who have to stay for extended periods, and many of make routine return trips; the visit was a respite from the tediousness of being ill. It was an opportunity to laugh, joke, have fun and savour the day that was especially dedicated to them.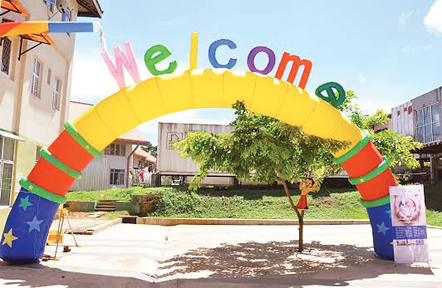 The Day was not meant to be maudlin, but one couldn't help the sad tales of hardship, pain, education interrupted and uncertain futures, related by the parents of the little patients, unable to do much but provide the love and care that is required, and just be there for them.
"I do not know when my child will be cured and when we will be able to go home. God has given us a life but our life is full of worries and depression," says a mother from Batticaloa. Praying daily for the good health of her child, she says, "As a mother I am unable to bear this. I came here all the way from Batticaloa with many difficulties. I do not know anything here and I even cannot understand or speak Sinhala. I am suffering a lot. The doctors do their best and all the medicines are free of charge."
Dr Deepal Perera, Senior Consultant Paediatrician, Cancer Hospital, Maharagama says education facilities are provided for the long term patients.
"We have a library as well. Children can go at anytime and read books and magazines. There is a playground and an auditorium outside where these children can perform on stage and show their talents," he says, elaborating that children can also take part in religious activities near the Bo-tree outside and that a mother, father or grandmother can stay with the child.
500 children
Over 15,000 Sri Lankan's are diagnosed with cancer each year, of which 500 are children. "Among the children, leukaemia is the commonest type of cancer. And most of the leukaemia sufferers are diagnosed with Acute Lymphatic Leukaemia, which we call ALL," he says, explaining that 80 percent of all cancers are curable if detected early.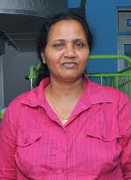 Medical Officer, Chammika Gamage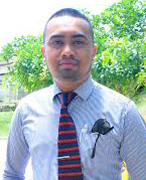 Thuwan Sherald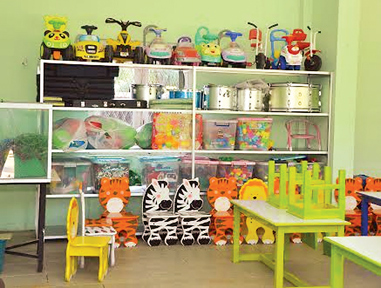 The second commonest cancer in children is brain cancer. Many are admitted with cancer in the eye and the kidney. "If a child gets cancer everyone gets depressed and they think it is the end of their lives but it is not so. It is curable with early detection, proper treatment, proper nutrition and with precautions to prevent from infections," he says.
According to Dr. Perera, the Maharagama Cancer Hospital is the largest and the most functioning hospital apart from the one which was recently started in the North. "There are even consultants here who had leukaemia and recovered. So we should be positive as cancer does not mean the end of life," he points out.
Dr. Tissa Disarathne attached to the Paediatric Intensive Care Unit (ICU) of the National Cancer Hospital; Maharagama says there are about 200 patients at the children's ward and that children also tend to suffer from secondary infections such as pneumonia, septicaemia, meningitis and brain infections.
Music therapy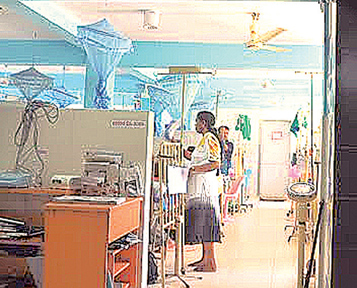 "Their situation is critical so they are taken into the Intensive Care Unit." Medical Officer attached to the Paediatric ICU, Chammika Gamage says they admit 10 to 15 children to the ICU every week. "Only the critical patients are handled here and once the critical condition is cured they are sent back to the wards," she adds.
Thuwan Sherald from CanHOPE, a non-profit cancer counselling and support service initiated by Parkway Cancer Centre in Singapore, who was also at the Maharagama Cancer Hospital on Children's Day, says CanHOPE works closely with the medical and allied health professionals, offering a wide range of resources and information about cancer in helping patients and their caregivers to make effective, informed decisions in their treatment journey.
"Today we are here to do a CSR program targeting Maharagama Cancer Hospital. Every month we do programs such as music therapy, art therapy and awakening your appetite like what to eat and what not to eat for children here and especially today for Children's Day, we are creating a mini Disneyland," he says, explaining the fun stuff planned for the children.