DRAMA
The making of Kumbi Kathawa
As told by Director Heshma Wignaraja: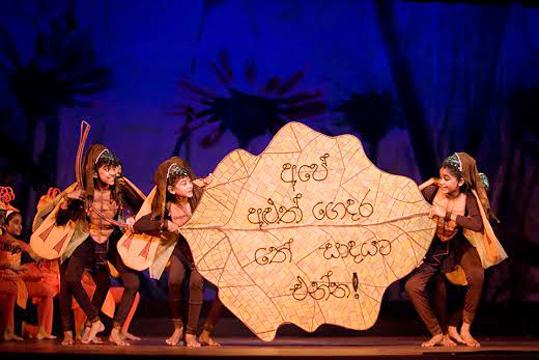 Kumbi Kathawa (Ants' Story), another outstanding Sinhala ballet presented by the Chitrasena Vajira Dance Foundation, is a simple yet powerful story expressed through mesmerizing choreography, dance, music, costumes and lighting, reveals a confluence of art and moral values.
The story was conceived and choreographed by Anjalika Chithrasena, the beloved daughter of legendary dancing duo Chitrasena and Vajira. She was inspired by a Russian children's story 'The Brave Ant' by Tatiana Makarova. Kumbi Kathawa is directed by Heshma Wignaraja, the grand-daughter.
As with any production from the Chitrasena Kalayathanaya, this ballet has been in development for over five years and has been carefully nurtured to reach a level of excellence, in keeping with the standards of the Kalayathanaya. It premiered in 2007 and was restaged in 2009. It has earned rave reviews and has been dubbed a treat for Sri Lankan theatre lovers.
Five years on, Chitrasena Kalayathanaya is back on board with Kumbi Kathawa promising another ground-breaking performance. Here the director of the ballet Heshma Wignaraja, tells the Sunday Observer about the making of the Ants' Story.
"Actually the intention for Kumbi Kathawa was derived from my mother at a time we lived like gypsies. We didn't have a permanent space for rehearsals, and we were working out of one of the many places that we used to have classes, which in this instance was my uncle's garage.
Permanent
"For about twenty five years we did not have a school or a permanent place to do our classes and rehearsals. Although things were not easy, we never lost heart.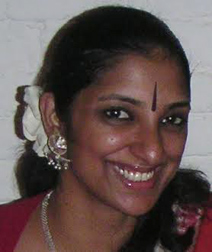 I think our lifestyle also backed for my mother's story selection, because Kumbi Kathawa is a simple story, which highlights many basic human qualities such as strength in unity; working for the greater good of the community; greed and the ugly actions that follow; staying positive and not succumbing to despair; quick thinking in a crisis; and finally and most importantly, forgiveness and compassion," explains Heshma.
When Anjalika was developing her initial thoughts to create the script of Kumbi Kathawa, Heshma was engaged in obtaining a theatre arts degree in USA. There she got the opportunity to witness a number of foreign productions and meet many world acclaimed theatre directors, which further triggered her creativity. That exposure has provided lots of inputs and influences for 'Kumbi Kathawa' which can actually stand shoulder to shoulder with internationally acclaimed Disneyland productions.
"My grandfather is the one who is responsible for initially bringing in this mesmerizing genre called 'ballet' into our lives as well as to the Sri Lankan theatre.
Although this genre has been introduced to the Sri Lankan theatre over five, six decades ago, still very few have explored it seriously. "Although often we see short dance items performed in different kinds of environments and many erroneously call them 'ballet', it is actually not ballet. Dance drama or ballet is actually like writing a script. It is a huge time commitment to make it a reality. It is not only having script, but dealing with bodies. And having bodies represent every part of the dance drama is a very difficult process.
Single
"Many people are not involved with this genre of art because they don't want to spend much time on a single production. However, we are hundred percent committed to what we are doing in Chitrasena Kalayathanaya and we are quite serious about it," Heshma elaborates, adding that there are around 60 students between age seven and late twenties taking part in Kumbi Kathawa.
To manage a large group of children on stage is no easy task but at the Chithrasena Kalayathanaya, (located in Narahenpita, next to the Lanka Hospitals, on land gifted by former President Chandrika Bandaranaike Kumaratunga) it is a dedicated task, that hones talent and instills commitment, pride of performance and discipline in kids who can often be wayward and mischievous.
"So far Kumbi Kathawa is performed by the talents made from Chithrasena Kalayathanaya. However, we cannot fabricate talent. Our output completely depends on the hard work of these kids. It is true that we identify the talents and foster them. But without their commitment and dedication we could not achieve this much of success," Heshma says, explaining that they are very keen on discipline and dancing is something sacred to them.
"We highlight the importance of our culture to our students. There are sometimes parents asking us at the very first class of the child when she or he is going to perform on stage? There were instances where we have rejected the applications when parents look for instant results," she says, emphasising that they don't promote any sort of dance competitions and that it is a school rule that nobody can take part in any dance competition without prior permission. "This is why we are different and we are not ready to compromise our values," Heshma says with conviction.
Problem
Focusing on the present situation of local ballet, she says the main problem is the financial constraints, which they also face all the time. "This is the biggest production we have ever done. For the four days of performance it cost Rs. 2 million, and so far we could find sponsors only for a quarter of the budget. And some sponsors have not confirmed yet."
However, she says they have never done a production merely because somebody was paying for their work. "We always find the appropriate time that company has to do something and also the company is ready in terms of money matters. In the meantime if a sponsor pops up we are lucky! Unlike in my grandparents' time, today there're very few patrons for the arts. That is one major problem that we have like all the other artistes especially in the theatre," she points out.
Kumbi Kathawa is a production by children for children. There's no doubt that this time too, it is going to be another magical evening of dance theatre the same as previous times.
---
Kumbi Kathawa the story
The ballet opens in an ant colony, where different ant families are at work, completing their specialized tasks (cooking, cleaning, washing clothes etc) for the good of the whole community. One day, however, the main ant family leaves the colony to gather food.
In their absence, an evil force, a mosquito, arrives and decides she wants to take over the beautiful place where the ants live. She terrorizes the ants, chases them away, and then destroys their home. When the lead ant family return after gathering food, they find their home destroyed and their friends missing. The mosquito shows no sympathy to their plight, and proceeds to chase them away as well.
Homeless and alone, the main ant family do not despair. They come across an old tin and decide to make it their home.
In order to celebrate their new beginning, and to make new friends, they host a tea party and invite a number of different insects (grasshoppers, fireflies, ladybirds, butterflies) to their new home. During the tea party, a storm strikes and suddenly a flood surrounds them.
The winged insects take off, but those who can't fly are left behind. The quick-thinking ants are able to topple their tin to make it float, and then start helping other insects who have been caught in the flood. They are even able to rescue the evil mosquito that had previously terrorized their world.