Celebrating the difference
Sunera Foundation's 20-year journey to change societal prejudices: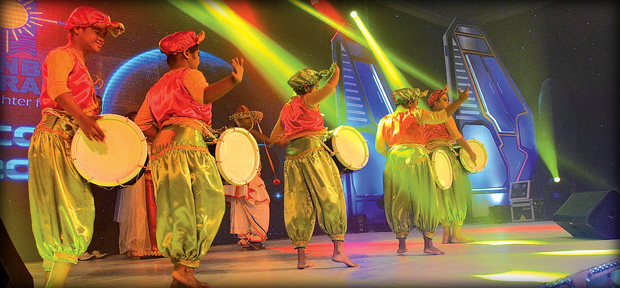 We live in a severely 'disabled society' where children are brutally raped and murdered, where killing is commonplace, where society angrily demands the reinstatement of the death penalty, and vengeance seems to be the driving force. In this context, the question that arises is, is it fair to marginalize only a group of people and call them 'disabled' when society as a whole appear to be 'disabled'?
This is a divide the Sunera Foundation, has been trying to bridge for the last 20 years. A none-profit organization, Sunera's mission and enormous challenge has been to integrate persons living with disability into communities of their peers and the broader Sri Lankan society.
The force behind the scene of Sunera Foundation is Sunethra Bandaranaike, daughter of two Prime Ministers, sister of a former President, and a woman of great consequence in her own right. An extremely self-effacing personality, she spearheads the art that she's promoting and says, she formed Sunera Foundation with a simple philosophy in mind. That is, everyone deserves equal respect and all should learn to celebrate the differences without depriving anyone of their rights. She is committed to changing society to be equal opportunity and encouraging diversity.
Success stories of Sunera Foundation

Prasanna Kumara- Kekirawa workshop
"I am 24 years old. I studied only up to grade 11. My memory was not good and I could not remember everything that I was taught unlike other students in my class. When I joined the Sunera workshop I had to be accompanied by my parents, as I could not go anywhere alone. My mother was very sick, which made me extremely sad. My father was the only breadwinner and I have a younger brother. I used to be a loner in the workshop. I did not talk to anyone as I was sad and shy. After sometime I started being friends with other participants. My life was changing. One day I decided to come for the workshop by myself for the first time and have continued on since. The trainers taught me many things. Today I am doing a small job as a sales assistant and I earn my own salary. I travel to work alone on my bicycle. I never thought I could ever become the person I am and do the things I do today. I owe it all to Sunera."
---

Indika Adikari - Kurunegala workshop
Indika is speech and hearing impaired. He became a member of the Kurunegala workshop in 2004. He worked as a helper and later became assistant trainer and subsequently senior trainer.
A talented actor and dancer, he performed in a play titled 'If I were You', in 2009, produced for the British Council's 60th anniversary celebrations, by Director / Playwright William Scott Richards.
He also had several roles in Jehan Alosyius' play 'Nutcracker' in 2011.
Indika has directed dramas for 'Samanalayaya', including the production of the Horombawa workshop for the drama festival Colourful Expressions, in 2012.
Indika is married to Nimmi Tennakone, who is also hearing and speech impaired.
---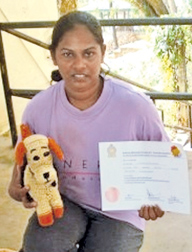 Nimmi Tennakone - Horombawa workshop
Nimmi Tennakone joined Sunera in 2007 as a participant. She is presently attached to the Horombawa workshop as a helper. A talented dancer, actress and painter, Nimmi was among the Sunera team that was invited to perform at SAMBHAV 2012 – a cultural event which was held in New Delhi in 2008.
When it comes to creating striking pieces of handicrafts, Nimmi shows great talent. Participating at the North Western Provincial level -International Abilympic Competition 2011, Nimmi was able to secure the third place when she showcased her talents by creating a well crafted woolen shawl.
For nearly two decades the Foundation has been involved in the magical process of enabling the vocally, auditory, visually and even the movement impaired give sound, sight and motion to their thoughts and dreams through dance and drama, in its endeavor to prove to society that these people are not disabled , just differently abled.
Early days
Explaining the early days of forming Sunera Foundation, Sunethra says, "Being an art lover, I began to support the performing arts in Sri Lanka through the Sunethra Bandaranaike Trust in the early 90s. Wolfgang Stange, founder of the AMICI Dance Theatre Company in London, was one of my good friends at that time. As we both love the performing arts, we collaborated with each other in setting up a performing arts workshop for a group of people with disability in Sri Lanka," she says, further elaborating that in 1998, a full length dance drama was created by Stange, with the assistance of Rohana Deva, titled 'Butterflies Will Always Fly'.
This was followed by a second production titled 'Flowers Will Always Bloom', which talked about the ongoing conflict and its tragic outcomes. "This was first staged in Sri Lanka and subsequently in London, New Delhi and Brisbane," she say, adding that as a result of the successful collaboration between the two organizations, Sunera Foundation was formed and registered as a Charity in Sri Lanka in April 2000.
Thereafter, Sunera Foundation, together with Stange and Deva, conducted performing arts workshops and produced two more theatrical performances. This collaboration ended in 2007. However, Sunera Foundation has continued its activities, expanding its outreach, developing its programs and catering to an ever increasing demand for its expertise. Today, Sunera Foundation is conducting workshops in almost every district in the country, free of charge, and helping thousands of disabled people to enhance their creative talents and secure their place in society.
Largest minority
Quoting the latest statistics, Sunethra says there are close two million differently abled people living in Sri Lanka. They form the largest minority amongst the marginalised people in society. "Over the years, very little have happened to support them and their families. It is quite true, that so far, disabled people are living on other people's charity. In this context, Sunera Foundation too is providing a charitable service," she says, claiming it is high time these people liberated from living on other people's charity.
Not one to mince her words, she says it is high time the people who govern this country, seriously take the issue of the disabled on board. "There has to be an overall plan to tackle this issue with policies worked out for short term as well as long term solutions," she says, elaborating that there are several categories of disabled people, with the largest number being the poorest of the poor in villages who are born with disabilities as well as those who have been disabled in the thirty-year long ethnic conflict.
"It is of paramount importance that the government pays serious attention to providing facilities to improve the quality of life of these people in such a way that they can use their abilities to provide livelihoods for themselves instead of depending on the charity of others, which must surely be demeaning and takes away their self respect. It is unfortunate that our education system has failed to provide facilities in the schools to educate and develop disabled children,"
Creative talent
Looking back over the past two decades, Sunethra says she's truly happy and proud of the work of the Foundation has done in developing the creative talents and abilities of young disabled persons. This she says has enabled them to strengthen their self confidence and self respect and raise awareness amongst the people about the need to accept and integrate them into society. She believes Sunera's work over the years has challenged the deep-rooted social attitudes to disability.
She is greatly appreciative of the passion and dedication of her team, which has made it possible to break down barriers in carrying out Sunera's message of respecting the individual and his/her contribution to the whole.
"As a result, our workshop participants can claim their rightful place in society, educating their fellow citizens by showcasing their talents in the creative arts."
What's special about Sunera Foundation, she say is that it does not shun difference, but celebrates it. "We bring together people from all ethnic backgrounds, who are disabled, to create dynamic theatre groups under the leadership and guidance of our highly trained team of young men and women. We use the performing arts as a tool for integration. Those who are involved with us and support us are rewarded by the fact that, through our work, prejudices are dismantled and acceptance and integration is built in their place," she further elaborates.