Dr. Ajantha Ranasinghe passes away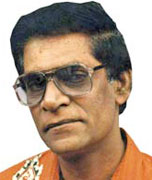 Veteran journalist and lyricist Dr. Ajantha Ranasinghe passed away yesterday around 1.30pm at the Colombo National Hospital after a brief illness, at the age of 76.
Born in Thalannehera, in the Kuliyapitiya District, Ranasinghe studied at St. John's College, Nugegoda. Initially opting to study science, later he shifted to the arts stream where he was taught by K.G. Karunathileka.
He started his career as a lyricist at Karunarathne Abeysekera's Lama Pitiya, and continued to write songs for singers such as Amaradeva, Rukmani Devi, H.R. Jothipala, Sanath Nandasiri, Victor Rathnayake, and Rookantha Gunathilaka. He has contributed to nearly 60 films in Sri Lanka as a lyrisict, working with veteran music directors such as Premasiri Khemadasa, Sarath Dasanayake, and Somadasa Elvitigala. He lived through the era of writing Sinhala lyrics to Hindi music, such as Ninda Nena Rathriye, to writing lyrics to original music, Sandakada Pahane Ru Siri Warune. He has won several coveted awards for his contribution to Sinhala lyric writing such as the Best Song Writer of the Year on three occasions and the State Literary Award.
He worked at the Lake House as a reporter and then as an editor for 25 years: he held the positions of Provincial News Editor and Local News Editor at Dinamina, Features Editor of Janatha and worked as the Editor in Chief of Nawayugaya for 1 1/2 years. After leaving Lake House, Ranasinghe joined Sri Lanka Broadcasting Corporation (SLBC) as a consultant. Funeral arrangements will be notified by the family in due course.