Event
Awards day for tiny tots
Mrs. Syeda Asghari Shakeel, wife of the Pakistan's High Commissioner in Sri Lanka, said the foundation of any successful society is based on sound education as it brings economic and social prosperity, which consequently enables them to run a modern society.
Mrs. Shakeel said this during her brief remarks at an Award ceremony hosted by a Colombo-based Montessori School recently at the Sri Lanka - Japan Cultural Centre, Colombo.
During the ceremony, Mrs Shakeel distributed prizes and certificates to successful students. Principal Mrs. Hafsha Fazlullah delivered the vote of thanks..
Several cultural and fun-filled performances by students captivated the audience.
---
Foundation stone laid for Zahira primary
The foundation stone-laying ceremony for the re-construction of the Muthuwappa Building for the primary section of Zahira College was held recently. The proposed four- storied building costs over Rs. 50 million and will have 16 classrooms.
Principal of Zahira College Trizviiy Marikkar requested parents, old boys and well wishers to rally round the management and provide the necessary contributions to the College.
Chairman of the Muthuwappa Building Committee Deshamanya Prof. M.T.A. Furkhan and Chairman of the Board of Governors, Fouzul Hameed also addressed the gathering.
Minister of Industry and Commerce Rishard Bathiudeen, State Minister A. H.M. Fowzie, Secretary of the Ministry of Integration M.M. Zuhair, Former Minister of Muslim Religious And Cultural Affairs Minster A.H.M. Azwer, Justice Saleem Marsoof, Vice principals, distinguished old boys, teachers and students were present.
Text and Pic Ruzaik Farook
---
Siddi Lebbe Research Forum and symposium launch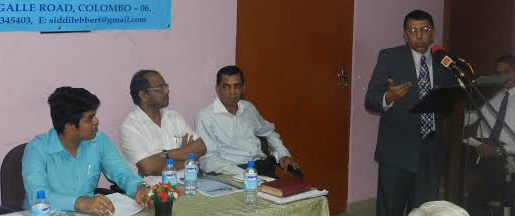 The Siddi Lebbe Research Forum and symposium was launched at Vinothan Hall, Tamil Sangam, Wellawatte, recently. Siddi Lebbe was the first Muslim lawyer, a great scholar, educationist, philosopher, writer and publisher.
To carry out research on Siddi Lebbe's scholarly activities, seminars, and conferences have been organised. It is also an eandeavour to republish his work and introduce his vision and importance to the next generation.
It was held under the patronage of President of the Forum, Attorney-at-law S.M.N. Marsoom Moulana. Secretary Niyas A Samad made the welcome address while the keynote address was delivered by Prof. Hareed M. Zafarullah (Attorney-at-law).
Politicians, scholars, writers and publishers were present.
Text and Pic : Ruzaik Farook