DRAMA REVIEW
Premawantha Kumarayo:
Shakespeare gets a creative Sinhala twist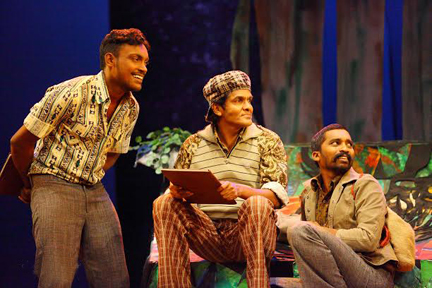 What place do shotguns, binoculars, corduroys, and long sleeved sweaters have in depicting times of ancient Athenian society of Shakespeare's A Midsummer Night's Dream? But then let's not forget Orson Welles staged Shakespeare's Julius Caesar adopting black lounge suits instead of togas, and Visakha Vidyalaya donned a traditional Sinhala costume motif on Romeo and Juliet in full measure (for measure), at the All Island Shakespeare Drama Competition finals, if memory serves me right, in 2000.
Shakespeare today lends to creative ventures that offer multifarious renditions of the timeless plays of the Bard of Avon. And on February 12, as 'Valentine's Weekend' commenced, I sat at the Wendt and watched Premawantha Kumarayo came to life in a feast of colour and visual delightfulness.
Presented as a Sinhala version of A Midsummer Night's Dream, this entertaining work of Sri Lankan theatre was directed by seasoned actor of the screen and stage, Priyankara Rathnayaka. The script is credited as a translation by Jayawathi Jayasinghe and the play is produced by Lal Handapangoda.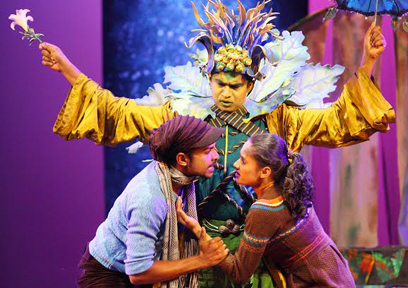 The costumes were creative, attractively executed and deserve special applause. Stage and set design offered appreciable stagecraft and achieved a good balance between devising for logistical needs of switching between scenes and locales. A Midsummer Night's Dream after all is a story that moves between the realms of humans and the surreal forest dwelling fairy folk. The way the forest slowly grew and withdrew with the use of umbrellas painted green and dressed up as shrubbery was a factor that achieved subtleness of the surreal.
Present day vernacular
Putting together a translation of an English script of any vintage to Sinhala is by no means a cakewalk. Sinhala is a rich language with multilayered nuances of hierarchism and linked to the factors of class between speakers and addressees. The use of language in this play interestingly showed difference of tiers that ranged from the more literary, antiquated Sinhala of yore to present day vernacular. That factor showed the levels of class of the different characters.
The character of Peter Quince, who in this play was referred to as 'master', along with his crew of aspiring thespians, spoke a more colloquial Sinhala, whereas the others spoke a more literary Sinhala. The latter could have been intended to work as the dialogic element that lends a 'Sinhala sense' of 'Shakespearean grandeur' to the play.
Comedy is not an easy genre to masterfully deliver. Shakespeare in today's context may not sound the most likely generator of side-splitting laughter. But riotous laughter was generated at a number of instances, which speaks much of the directorial vision crafted and actor skill harnessed to deliver what was achieved through Premawantha Kumarayo as a comedy for contemporary Sri Lanka. Theatrical antics of bodily agility offer vivacity and liveliness, and when directed skilfully, show a motion of rhythm and interplay between characters outside the verbal narrative. This notable element was commendably built into the performance and well executed to achieve the larger goal of a comedy for modern audiences. Song, dance and frolic were elements woven to the 'fabric of performance' that defined the scheme of the narrative as one geared to offer an experience of entertainment.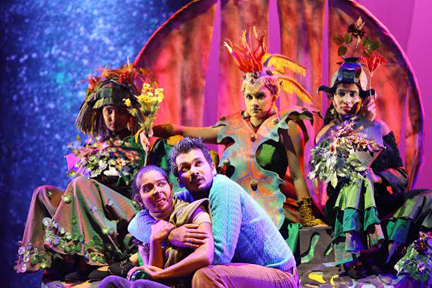 On the aspects of this play's base as a 'translation', it must be noted that the names of all the major characters and most minor ones were as per Shakespeare's script. Although Quince was called 'master' his troupe remained faithful to Shakespearean christening. Bottom, Snug, Flute were names that were present although the play they staged was not named Pyramus and Thisbe, the classic Greek story by Ovid, as per A Midsummer Night's Dream. Instead of Pyramus and Thisbe Premawantha Kumarayo presented two very contemporary Sinhala names, although the storyline remained unchanged.
Faithful fairies
In that respect, a notable 'adaptation' aspect as opposed to a 'translation' can be noted. I was also curious to see how the wild flower 'Love in idleness' would be translated. It was not given any specific term. Avoiding naming it, the juice of a particular flower was sought by Oberon to have his faithful fairies utilise to cast in motion the chain of comedic mischief that forms the central twists in the story.
Among the actresses, the one playing Hermia proved to be the one with the most projected performance as her voice was an asset to her, although the actresses portraying Titania and Hippolyta needed better voice projection. Those who performed as Lysander and Demetrius did a commendable job. The little girl who played the fairy 'Cobweb' whose name was crafted as a Sinhala translation -'Makuludeli', too, albeit occupying a very minor space, did her part well. Priyankara Rathnayaka as Bottom was a treat. The players performing the roles of 'Master's theatre troupe' all performed very well and won the audience's cheer.
Is the play that doesn't have any strong negative points deserving of censure? It would seem so.
Teen teledrama culture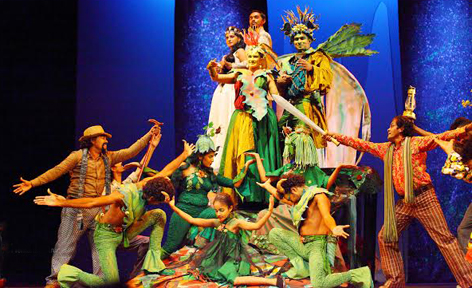 For the life of me I couldn't understand what possessed the director to use the signature James Bond theme music that is the trademark opening of all 007 movies, to announce the entry of Oberon and Titania! The spectacular visual entry of the King and Queen of fairies coupled with that music element ruptured the fabric of the narrative and hit a low point, instead of the climax it could have been with better music direction. The 007 theme was a crass injustice to a production that was in other respects quite well done. This particular juncture of the performance must be seriously rethought for future performances.
Further, I can't help but wonder if the inclusion of a touch of Elvis Presley through the song 'Can't Help Falling in Love' (from the film 'Blue Hawaii') was in keeping with the lingual scheme of the play. A modern English love song being sung in a Sinhala version of a Shakespearean play seemed as though catering to the demands of popular teenage tastes, pandering to the 'teen teledrama culture'. However, I wouldn't say it didn't lend a touch of romantic ballad to the romantic-comedy theme of the play as a narrative, which adopted modern elements, although whether it is fully congruous with the larger framework of the play is strongly questionable. Also I wouldn't say it's unquestionably dismissible as the 007 entry theme!
Can Premawantha Kumarayo qualify as a translation of A Midsummer Night's Dream? The title itself translates to mean 'Romantic Princes' in English. But considering what I have observed, I Premawantha Kumarayo is more a creative rendition of A Midsummer Night's Dream in Sinhala, incorporating aspects of adaptation rather than a faithful translation. In overview, I would say Premawantha Kumarayo can be applauded as a success, which offered its audience a worthwhile, entertaining theatre experience.