Book REVIEW
Handy book for resolving labour disputes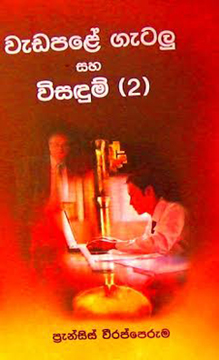 Resolving issues at work place has to be done very tactfully and diplomatically. To do so, both the employers and employees should be well equipped with the knowledge on Labour Laws and how the laws operate. This would help both the employer and employee work in a milieu conducive to carrying out their respective duties in an amicable manner, fulfilling their task in nation building. The country and the State heavily depend on the Private Sector for stable economic growth.
In this respect the book Wedapole Getalu ha Visandum 2 by Francis Weerapperuma, Attorney-at-Law, retired President of Labour Tribunal and Additional Magistrate, is a very useful book, filling the dual roles of a trusted companion and guide to both the employer and employee. It is also of great value to trade unions, lawyers appearing in Industrial Courts and Labour Tribunals and also for Law students.
The book is a sequel to Wedapole Getalu ha Visandum released a few years ago.
In easy to understand language, the book explains legal matters pertaining to labour in a very lucid manner via case study format.
Retired Chairman of the State Languages Commission, Nimal R. Ranawaka, has written a very commendable foreword, which adds weight to the importance of books such as these which seek to educate the masses.
The book is a S. Godage and Brother (Pvt) Limited publication.
- Reviewed by Yasas Manukula Koralalage