Wijesoma Voice of the voiceless Punchi Singho

As I displayed some cartooning skills at school, after my Advanced Levels, my father took me to see the well-known cartoonist W.R. Wijesoma at his residence in Ratmalana. I expected this celebrated cartoonist to be a well-built and shabbily dressed man, to my surprise I saw this diminutive man, smartly clad in white shirt and trousers, with a 'Punchi Singho' face coming to the gate with a broad smile.
After having a quick look at my work he invited me to Lake House next day and introduced me to Philip Cooray, a senior editor, who gave me a break as a freelance designer at the Observer Saturday Magazine during my holidays. That was the stepping stone of my career as a newspaper designer and later as a cartoonist.
Southern
Wije Rupage Wijesoma was born in 1925 to parents who hailed from the Southern part of Sri Lanka. His mother died when he was still a kid, and he grew up in Colombo under the tender care of his aunt and grandmother, who had been very fond of this little boy.
Young Wijesoma obtained his formal education at the Maligakanda Government School Maradana and Mahabodhi Vidyalaya. His drawing skills were first recognised at school. He employed his creative talents in scouting activities. He considered scouting to be one of the most influential things in his life. As a troop leader, he shone in scout activities in camping and hiking, winning many awards for the school.
His education was disrupted during World War II and he wasn't able to resume formal studies. Later he enrolled in the Colombo Technical School where he learnt practical training in various crafts.
During the war years, he spent his days at the Museum and the Public Library, reading newspapers and magazines to keep himself updated on current affairs and the latest developments around the world. He made it a habit to read anything he came across. He would even read the newspapers in which the sugar was wrapped.
Young Wijesoma had to struggle in getting a job as a cartoonist when he started his career. His first cartoons were offered to The Observer - they were appreciated, but he did not obtain employment as a cartoonist.
Skills
Then he tried his luck as a proofreader. In September 1947, he applied for a post at the Times of Ceylon. He was interviewed by the editor Frank Moraes who was impressed by his language skills and wanted him to report to work next day.
At the reading room, he gathered knowledge on journalism and its process. Inspired by the works of master cartoonists Aubrey Collette and G. S. Fernando, he also wanted to become a cartoonist. But his dream was not immediately fulfilled, as there was no place for a third cartoonist in the Group.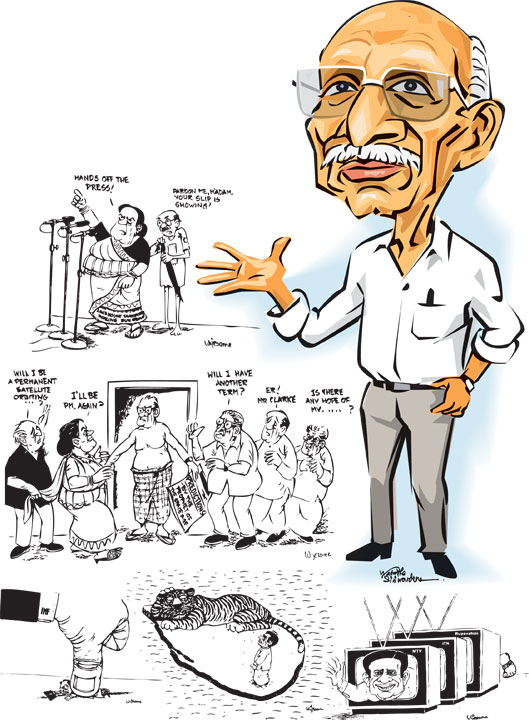 In 1948, as Collette decided to move to The Observer, Wijesoma got the chance he was waiting for - an incident occurred involving Sir John Kotelawela who had lost his baggage while on a trip to London. Wijesoma was requested by his superiors to create a cartoon for the Sunday Times. He drew Sir John covering his nakedness with a newspaper at the airport, and the Editor Victor Louis promptly gave the young man a place at the Sunday Times. He later went over to the Sunday Lankadeepa when it started under D.B. Dhanapala where he developed his trademark 'Punchi Singho' character.
'Punchi Singho' was the cartoon character, he created as the Sri Lankan stereotype of the common man clad in sarong and banian with an umbrella and a bag; this character evolved through the years, becoming poorer, sporting tattered clothes and a worn umbrella in later years.
Threatened
Wijesoma got into a spot of bother when he was threatened with libel for a cartoon he did which portrayed JR Jayewardene with a dollar sign in his pocket. His intention was to show that JR was pro-American. But it was interpreted as a bribe and a Letter of Demand was sent to him. But the case was settled by the able Board of the Times which comprised several top lawyers.
In 1968, after 21 years at the Times Group, Wijesoma moved to the Lake House to serve at The Observer.
He enjoyed working at the Lake House until he tasted his first bitter experiences of press control when Lake House was taken over by the government. The first cartoon sketched by Wijesoma for the new management, on Dr. N. M. Perera, then Finance Minister, captioned 'Doctor's Dilemma' was not published in the next day's newspaper. Instead, he was summoned to the Chairman's office and was requested to do a cartoon on one of the opposition politicians. Wijesoma agreed. "But first, you publish the cartoon I drew of N. M. Perera." The cartoon was carried.
He saw the Lake House through changing governments and worsening conditions with increasing interference by the management to edit his cartoons which compelled him to leave the State Media for good.
In 1981, when the leading businessman Upali Wijewardene launched The Island and Divaina, Wijesoma was one of the key people he chose. There was some controversy about Wijesoma's salary. But editor Edmond Ranasinghe made it happen and got Wijesoma to work for the newspaper and proved that the value of a man cannot be measured by money. He was a great asset to the newspaper for the next 25 years until he breathed his last in 2006.
Wijesoma was undoubtedly the longest serving political cartoonist of Sri Lanka. He completed 50 years in the trade in 1997. He won the best cartoonist award in the year 2000.
The Editors' Guild of Sri Lanka honoured him with the Long and Distinguished Service Gold Medal Award in 2004.
Jungles
His cartoons have appeared in the New York Times and the World Atlas Press Review.
Wijesoma was also a great wild life photographer. He used to spend days in the country's primordial jungles among the birds and wild elephants whenever he got a break from cartooning.
A very humane person, his great abilities and fame sat lightly on him. He helped and guided young journalists and colleagues in many ways. A devoted family man, he nursed his wife through her last illness many years ago and was bereft by her death.
The modest, soft-spoken artist had been ailing for some time but almost till his last breath kept the country amused over the antics and escapades of generations of politicians over five decades.
Former Editor of 'The Island' and 'The Observer', the late Ajith Samaranayake described him in his tribute as, "an eminently earthy man with an unerring ear for the nuances of the mass mood, he had the uncanny knack of capturing and crystallising a situation with a wonderful economy of lines" and ranked him among the best in the world.
"As a political cartoonist who with a single stroke could puncture the pomposities of self-inflated politicians and officials, Wijesoma was fiercely protective of his independence and integrity."
"Many were the times when he clashed with newspaper managements which however always treated him with great respect for they knew that he could never be bought over whether by his own proprietors or other forces," Ajith wrote.
Wijesoma's magical strength was how he was able to appeal to both the Sinhala and English readership. Without making loud claims of his pretensions, he gave a true humanistic outlook about Sri Lanka, transcending all frontiers.
Tyrants
Wijesoma will be best remembered for his creation Punchi Singho, a self-caricature of the so-called man on the street. Punchi Singho gave the appearance of frailness but he could stand up to tyrants. After Wijesoma's departure Punchi Singho disappeared from the public eye leaving an enormous empty space in editorial pages.