Sweet treats of yore
'They don't just make them like they used to' is a common phrase used by the older generation of today when speaking of just about anything related to the yesteryears and especially so when speaking of the various sweet treats they as children enjoyed after school, on family trips or on the rare visits to the cinemas, parks and botanical gardens. To many their childhood memories are filled with waiting to hear the Bombai Motai man's bell, crowding around the ice choc seller or visits to the bakery to buy Gnanakatha, a favourite treat for evening tea.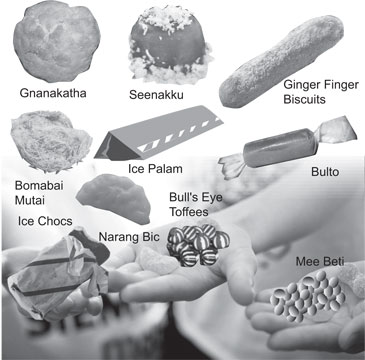 Some of these sweets are no more and only the nostalgia remains. However some treats have in a small way made a comeback in recent times while others have survived throughout the years despite its waning popularity among the children and youth of today.
Bulto
When asked what their favourite sweet was during their childhood, Bulto was the clear winner among many who grew up in the 60's and 70's. Wrapped in oil paper Bulto was the cheapest toffee at the time costing just 1 cent for five Bulto toffees. The molten and tough Bulto was popular among children for just that reason. "We could eat it for ages, and it seemed like it will never finish and it was very sticky as well" says 60 year old Sriyani Perera who recalled that 'Gunasiri Bulto' was the most popular during the time. The Bulto made from Sugar Cane Honey, Coconut Milk and Sugar came in different sizes and even consistencies at the time. Unable to compete with the many toffees flooding the market in different shapes, colours and flavours as time went by its popularity diminished among children. Today a much expensive and smaller version Bulto is once again available in some supermarkets and shops for those who want to relive the past or for those who are interested in tasting the toffee so popular during the childhood of their parents.
'Narang Bic'
"For 5 cents we could buy three Naran Bic candies" says Ranil Jayasekara reminiscing about his childhood. The translucent hard candies were shaped as a section of a Naran, a local variety of lime which was thereafter dusted with Glucose. The citrus flavoured candies came in a range of colours. Green for the lime flavoured while Yellow and Orange were for Orange flavoured candies. "This was really popular during the time" he says. According to another interviewee the best part about Naran Bic was taking it out of the mouth half way of eating it to observe how the coated powder had disappeared showing the real colour of it. Even though Naran Bic exists even today it is still more of a popular sweet among the older generation rather than among the youngsters of today.
'Bombai Motai'
Back then ringing of a bell during the evening down the lane or at the school gates could only signal the arrival of the famous 'Bombai Motai' man. A more coarse and stringy type of candy floss, 47 year old Mahinda Sirimanne says it used to come in different types of colours such as pink, yellow, green and orange. "They used to bring it along in a box which had glass panes" he says adding that 'Nice' a wafer thin circular sweet and 'Seeni Motai' that used to be brought wrapped around a stick was also very popular among children at the time. "He would break off a piece of seeni motai from the bamboo stick it was wrapped around in and hand it to us" he says adding that this was his favourite but has not seen it since his childhood. One cent could buy one serving of the melt in the mouth treat which the seller hands over to the eagerly awaiting child in a piece of paper. Today mostly found only at the beach 'Bombai Motai' a sweet learnt from Indian traders has become a treat hard to come by.
'Inguru Angili'
'Inguru Angili' or Ginger flavoured finger biscuits was a favourite among the children before the time of packeted biscuits. Shaped like fingers, hence the quite unique name the biscuits were ginger and pepper flavoured. According to 66 year old Nimal Samarasinghe who fondly remembers the once favourite biscuit, he says it used to be blackened on both sides and was about five inches long. "It was a very dry biscuit and tasted sweet but only very mildly" he says adding that just two of those biscuits could fill one's stomach. Though not unheard of these biscuits if found in a shop are a rare find in today's day and age.
'Ice Palam'
Another sweet treat many who were asked fondly remembered were the 'Ice Palam' during the time. Made by the famous Elephant House the 'Ice Palam' of the yesteryears were triangular prism shape coming in a cardboard box. "There was no stick and you would have to push the ice pop out of the box to enjoy it" says Samarasinghe. "Unlike today where many flavours are available back then these only came in Orange and Lime flavours" he says. While the 'ice palams' are yet available today the unique packaging that once was is missing with many manufacturers preferring the same type of paper wrappers instead.
'Gnanakatha'
To many children of the 60's and 70's a trip to the bakery meant getting the chance to buy freshly baked 'Gnanakatha' biscuits. Similar to the indian sweet biscuit 'Nankhatai' which was made by a Parsi according to a recipe handed over to him by a dutchman the Sri Lankan version is rock hard and powdered with sugar. "It was the best and my favourite" says one interviewee who claimed to have eaten it almost four days a week. "It was so common and readily available, and we children loved it" she says adding that however it has been unable to compete with the cupcakes, brownies and the likes of today. Even though still available according to her it does not taste the same. "Back then it was not refined as now so you could taste the baking soda in it" she says adding that however though rare and not popular as it once was, when available the Gnanakatha biscuits are of better quality today.
'Hoonu Beti'
Yet another cheap and never the less tasty sweet treat was named by children as 'Hoonu Beti' which interestingly translates into 'Gecko droppings' used to cost 10 cents a handful. The small barley seed sized sweets were in fact cumin seeds covered in a coloured sugar coating. Despite the somewhat strange ingredients this was another popular treat during the days and is still available today however not very commonly. "I didn't like it much because of the Cumin in it" says Perera, but according to him many children nevertheless loved the treat perhaps due to the various colours it came in. "It did look very pretty in the bottles on the counter" he says.