Spanning two worlds...:
Prof. Priyani Soysa: A child of two centuries
What is it like to be born in one century and live in the other?
This may be considered a rare privilege for most; but how many of us are aware that our own country can boast of more octogenarians and nonagenarians than we can count, who, having made significant contributions in their specific fields in the previous century, continue to enrich the country during their retirement years in the 21st century.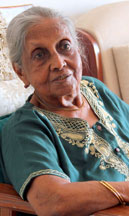 Emeritus Professor Priyani Elizabeth Soysa is one of these unique personalities. At ninety, this remarkable nonagenarian has made medical history with a string of 'firsts' after her name, at a time when the number of female doctors could be counted on one's fingers. As a paediatrician, she also carved a niche for herself in maternal and neo- natal care as well as her pioneering efforts in the immunization of children and new mothers..
In a recent walk down memory lane with cameraman Chinthaka Kumarasinghe and this writer of Sunday Observer, she reminisces on what is was like to be a child of two entirely different eras...
My interview with her was special in more ways than one. It was like re-connecting with an old family friend I had come to know over four decades ago, when she was an attesting witness for my marriage along with Mr. Ranjith Wijewardene my former Chairman at the Associated Newspapers of Ceylon Ltd. The last time I met her for a similar interview was a decade ago, but looking at her it seemed like time had frozen and those years had never slipped by. Still amazingly youthful , witty and ready to roll, her memory is as keen as ever down to the most minute details when she recalled those memories of yesteryear.
The only thing that had changed was the place we were meeting.
Ten years ago, we had driven up a quiet side road in Colpetty, and entered her old family home through a small well tended garden perfumed by jasmines, bougainvilleas, shoe flowers and mangoes. The clutter of books, photos, medical files and other paraphernalia in her large sitting room was a reflection of her life style and varied interests as a wife (she's married to Dr Ananda Soysa, who at 95 years is perhaps the oldest living ENT specialist in Sri Lanka,) mother of four and grandmother...
Today, we met on the 11th floor of a high rise apartment building in Bagatelle Road, to where she and her husband were dispatched after their ancestral home fell victim to road development work.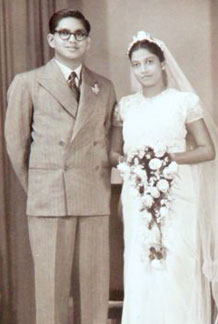 The contrast could not have been bigger. It merely underscored the relevance of the question I had come to ask her: "What is it like to be born, educated, marry and become a mother in the 20th century, and be able to spend your retirement years in the next century?" How, I wondered had she been able to adjust to those changes she confronted in being a child of two centuries?
"It was a huge challenge for me. There were many moments I felt I couldn't handle them", she admitted. Explaining further she said, "More than anything, like the rest of my friends who grew up in the 20th century and have managed to survive till the 21st, I am concerned about the threat the new Millennium has posed to our values, cultures, and moral ethics.
"These time honoured values seem to be literally disappearing under a mountain of new trends and lifestyles, that are not always the best for our society.
To give you some examples, in the past, our expectations and lifestyles were simple and limited. We had simpler goals and a so, a collective mindset. Today goals have changed and people are more individualistic in their thinking. Everyone wants to do better than the other. There is competition by parents to get their children into good schools. Schools today are exam oriented. Children have no time for play. When I was growing up we spent most of our time in our gardens, climbing trees, plucking fruits from trees, making chains with shells, playing games. Many of us walked to school for few could afford the buggy carts. Those early morning walks kept us fit and alert. We only ate home made food - lentils and rice cooked from home with home grown vegetables free of fertiliser and pesticides.
A keen pianist and a gifted singer, one time tennis captain of her old school Princess of Wales, Moratuwa, she is quick to point out that such extra curricular activities were never thrust on her by over ambitious parents.
"Most of my school friends did them because we wanted to - not because our parents wanted us to do so, to have a 'rounded education'. Today, it's a different scenario altogether. Study the psyche of most parents and you will see driven they are by their desire to give their child the best of everything - whether education, clothes, toys etc. So they plan their child's life the moment he/she is born. Competition to get the best school starts from grade 1, when parents actually 'book' a place in the school to make sure their child gets admission after paying exorbitant donations of cash and kind to the school authorities."
Negative
One of the most negative impacts of modern lifestyles and changing mindsets especially among young people is that it has led to the breakdown of family relationships, she said.. "Time is now a factor of concern with increasing workloads and most parents working longer hours away from home. So they have very little time for their children. When I became a mother I gave up working to look after my children and bond with them. Today that bond is fast disappearing. We are moving away from each other and becoming socially isolated", she lamented. "Soon our children will lose the art of communicating except via their hi-fi gadgets!"
As a Paediatrician Dr Soysa has made many significant strides. After completing her studies at Princess of Wales College, Moratuwa, she entered the Faculty of Medicine, University of Colombo where she graduated with first class honours in the final MBBS exam. Thereafter, she proceeded to the UK to pursue her specialist studies in her pet subject: Paediatrics. After obtaining her membership of the Royal College of Physicians London, she also sat for the doctorate in medicine of the University of Ceylon, becoming the first woman to obtain that qualification here.
She also became the first woman to be appointed to a professorial chair in Sri Lanka.
What it was like to be a new undergrad in a male dominated university back in the 1920's. Was there any ragging back then?
"Ragging did exist even in our time. But it was never like what it has become today. Today, ragging undergrads is so ugly and vicious the University Grants Commission has decided to appoint an Advisory Committee to inquire into this matter. In my undergrad days, ragging was very disciplined. New undergrads would have to stand on a table and sing a song, recite a poem or do some simple exercises. No politicians interfered in the university life and the atmosphere was very peaceful."
Need of the hour
The need of the hour for university students is to have counsellors who will guide them along the correct paths. If other countries have counsellors who offer guidance in careers as well, why not in our universities, she asked.
Dr Soysa was also in the forefront of campaigning for the extension of maternity leave .
When asked about it, she said, "I'm glad this leave has been given and is still continuing. We asked for 4-6 months paid leave mainly to promote exclusive breast feeding and also to control the rapid growth in our population in a natural way. We also introduced paternity leave for fathers who were given extra time or a day or two off to help with a sick child when the mother had to go back to work after her maternity leave had finished.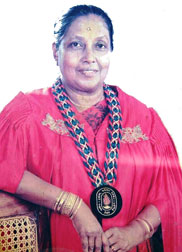 Further, we also made arrangements for fathers to attend deliveries and see their child born. This was because we wanted to strengthen family units and reduce gender violence. I believe this too is being allowed in some offices but needs to be implemented in all state and private offices."
Malnutrition
Having fought the spectre of Malnutrition for several years, with other Health Ministry officials, the continuing prevalence of malnutrition islandwide among mothers and children is a matter of concern to her.
"Malnutrition has only declined marginally during this long period. There has to be a collective determination to involve multiple departments, with community involvement.
"Teach children to grow home gardens and plant trees. Parents must be encouraged to cook home cooked foods instead of take way junk food. And farmers must encourage their children to go back to the soil.
These negative aspects aside, Prof. Soyza is optimistic about the future of the young generation. She holds on to the thought that they given their ability to adjust, and adapt, and benefit from the vast strides in technology, medicine, and all other aspects of life, their future could be even better than the previous century.
Most of all she is grateful and thankful for the privilege of having been able to harness the best of two worlds.
"I thank God for that. I am also thankful I have my husband of sixty one years still around and active and been able to watch my grandchildren growing."