DRAMA REVIEW
A tedious tirade on 'nothingness'
A review of the play Denma Godavenna :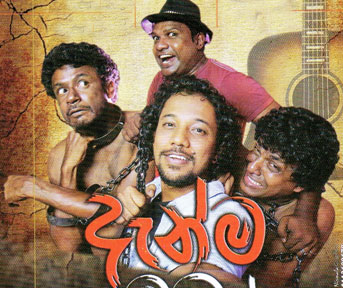 Novelist Chuck Palahniuk - author of Fight Club, who's accredited as a writer of 'transgressional fiction' says the following -"Your audience is smarter than you imagine..." On the 18th of March this year at the Punchi Theatre in Borella as I watched Gayan Kanishka Rajapaksa's Sinhala play Denma Godavenna, a rather unambiguous assertion that struck me, as from the 'intention' in the play's text is that this work seems to presuppose that its audience is one that cannot be ascribed with much intelligence and is therefore in dire need of edification. There is an unmistakable pomposity that projects from the proscenium to the 'misguided mortals' watching the show. This is by no means a play for audiences seeking entertainment theatre.
Nuances
A significant portion of the text (as dialogue) is litanies that flow and spiral and shootout mostly with little or no aesthetic nuances and are bare statements impressed as unmistakable, unapologetic pontificating. It was almost as though the two characters played by Sarath Karunaratne and Thilanka Gamage asserted they were establishing a dogma. The gist of this dogma may boil down to - Your lives are meaningless bound to nothingness and there is really nothing but a bunch of hypocrisy that you are draped in, and are helping perpetuate every single day. As bold and grand a statement as it may sound one who watches the play will see there really isn't any 'revelation' made in any terms with practical (and certainly not aesthetic) worth to take note of through this work.
One may see that the colossal dose of philosophising that comes out attempts to showcase acquaintance with 'veins' of Albert Camus and/or Jean Paul Sartre, but it is at most a 'vainness' that seems to be the blood running in the 'veins of the script'. Rather than saying it's an utterly intolerable play I would say Denma Godavenna demands monumental accommodativeness from its audience to sit through it for lack of creative investment made to narrate ideas through aesthetically sound theatre craft.
Mute
The Lebanese poet and philosopher Khalil Gibran says in his work Sand and Foam -"Only once have I been made mute, it was when a man asked me 'who are you?". Denma Godavenna seeks to build a discourse on the subject of 'identity' as an artificial construction. The question of individual identity as a socio-culturally constructed notion and contesting the worth of identity takes on a notable ground. Something I found rather unconvincing among the outright stated propositions is the 'theorem' of differentiating 'the ego' from one's 'self' and addressing the 'creature of wants' as separable from the 'self'. A whole lot of grandiose theorising with very little creative narrative as 'theatre' is what will strike the discerning theatregoer when watching Denma Godavenna.
The play displays dialectical philosophising touching on a circumspective sermonising modality while an overt introspective engagement is projected to the audience. The fact that the performers consciously state that they are performing a play and performing it for an audience gives it a facet 'metatheatricality' in the light of how 'metafiction' is admissive of being not real and being fiction.
Abstract
Denma Godavenna is not of the theatre of the absurd in the form of Samuel Becket's Waiting for Godot or Eugene Ionesco's Rhinoceros. But perhaps it may be seen in the light of a more abstract play driven by dialogue where a two player performance delivers what is virtually 'a monologue through dialogic interplay' as delivered by Karunaratne and Gamage, coupled with a dialogic discoursing set into a duo's abstractly fictional scenario played by Jagath Manuwarna - who plays a nameless vagrant born to the streets, and Jagath Chamila who is an unnamed rural boy turned Royalist (yes, of Reid Avenue Colombo 7). Seeing how their scenario gets played out I wondered what the top brass of the Dons from Reid Avenue might think of it!
The acting talent on the boards I must say in all fairness to the players was good, although Jagath Chamila had some slight slip-ups in his dialogues at times while Manuwarna delivered without any fumbles. The skill of the performers is what the performance possessed to gain and keep the attention of its viewership on a performance that did not rest on a compelling script. The musical elements I will say added respite and some appreciable change of 'tone' and were 'instrumental' in showcasing Gamage's talents as a guitarist and Karunaratne's abilities as a superlative percussionist with the instrument called the 'cajón'. In this regard I will say for the record that the performance benefitted immeasurably from Karunaratne's dextrous barehanded percussion on the cajón to spur some attractiveness to a performance that drove, at times, on an unrelenting harangue!