Exploring the pristine wild
Spread over 234 square KMs, Knuckles is the largest forest reserve in the hill country. This wilderness is home to indigenous wildlife, dangerous predators as well as exclusively beautiful flora. The area is covered with hefty mountains that are 'human-free' and peaks with 90 degree vertical cliffs. Deep in the jungle, it's truly untouched pristine wilderness.
Mountain Rangers targeted the longest possible trek in Knuckles from Pitawala (42Kms from Matale) to Sulugune (Off Hasalaka) passing Walpolamulla, Duwili Eli complex, Kandy-Matale District Border in 'Rahana Ketu Pathana', Meemure & Dandenikumbura in four days.
Getting to the Trailhead
We took a bus to Matale from Colombo & from there hired two three wheelers to go to Pitawala. After crossing the moonlit Riverston, we arrived at Atanwala around 1.00am. Spent the night at a village home and started the walk early morning next day.
Day 1
The footpath to Duwili Ella is about 10KM starting from Atanwala Village and the path is covered by huge trees and occasionally opens up to green meadows shadowed by mist covered mountains. After walking for about 2Kms we arrived at Walpolamulla village; an abandoned village with one remaining house which is used by forest officers and trekkers as a shelter.
After about 10 mins walk from village, we arrived at a viewpoint from where we could see our target for the day. It was just after rains and far away, we could see Duwili Ali complex in its full glory.
The footpath crossed numerous water streams gushing with crystal clear water and beautiful little fish. The stones covered with moss was more comforting than velvet and the colorful dragonflies and butterflies roaming around made the whole eco system a heaven.
Of course, we couldn't resist having a bath at a natural fish spa cum pool full of ice cold water! After having lunch, we traversed the jungle for another 5-6 hrs to reach Duwili Eli complex which comprises of 11 of waterfalls of which the highest is known as 'Duwili Ella'.
While discovering the cascades of Duwili Eli complex, we encountered the most gorgeous cascade we've ever seen in our lives. Astonished by its virgin beauty,we stared at her for a while not knowing the time passing by.
Then, we did a quick climb to get to the top of Dumbara Ella where we settled down for the night. As a drizzle welcomed us to the discovered campsite, we snuggled up inside the tent for a good night's sleep.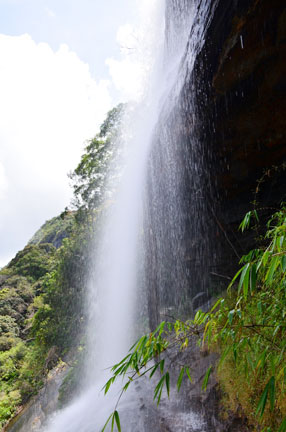 Day 2
We started early morning for the second day after the breakfast. Reaching the top most Duwili Ella from Dumbara Ella comprised of a strenuous uphill climb of about 4 hrs. However the sweat was not wasted as she was gloriously pouring downhill in amazing speeds. We had tea at the Duwili Ella cave and began walking towards the 'Rahana Ketu Pathana' plain.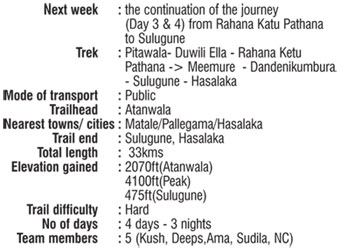 There is no path beyond Duwili Ella. We continued our walk sticking to GPS coordinates climbing several steep mountains, walking across streams and leech infested forest floors in order to get close to the coordinates of 'Rahana Katu Patana'.
After a tiring walk of about another 3 hrs, the thick forest opened up to the plains. The boulders which marked the border of Matale and Kandy Districts were in front of us! elephant, rabbit & cow dung was abundant and the bees were singing their happy song among hundreds of Neela Kobo flowers. We walked up in the plains passing the District Border and walked to the right. Giant Thunhisgala appeared right in front of us. The valley opened up to Hasalaka side and we could also see the paddy fields in the upper part of Meemure. We looked behind to see another wonder. It was Lakegala but the shape was so different that of the normal conical shape!
The stones were warm to let us dry our clothes and firewood was easy to find. Small water source was flowing by. We have found one of the perfect campsites to rest! We set up camp and watched the moon rise while having dinner. Expecting a spectacular sun rise, we slept like logs in our tent.