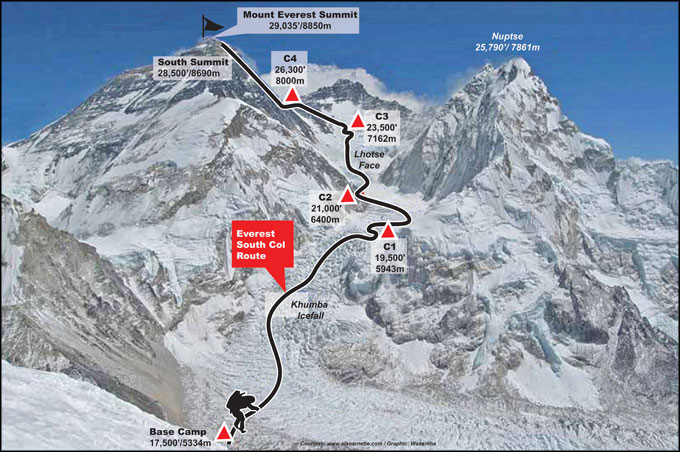 Jayanthi & Johann at the top of the World:
Sri Lanka's conquest of Mt. Everest
The Vesak full moon shone on her and on the surrounding narrow ledge of glistening snow as, braving the freezing temperature and wind and, her own exhaustion after climbing thousands of metres in oxygen thin air, Jayanthi Kuru-Utumpala reached the top of the world on the peak of Mount Everest at 5.20 a.m. on the 21st of May.
This day in 2016 is now a memorable day for Sri Lankans as our first countrywoman made history. Jayanthi Kuru-Utumpala, a small-made but toughly wiry writer, social activist and mountaineer, has become the first Sri Lankan woman to 'summit' Mount Everest.
Her mountaineering partner, Johann Peiris, too, made it close to the summit but had to stop due to oxygen depletion just 400 metres short of the summit of the mountain that has enraptured so many mountaineers, and killed and injured many in their attempts to overcome the most extreme conditions.
Nevertheless, Jayanthi and Johann, long-time mountaineering partners and friends, now go down in history as the first Sri Lankans to climb Mount Everest. They are scheduled to arrive in the country on Friday (27) night. Amid all the difficulties of reaching them through telecommunications as they trekked back through the Himalayas, the Sunday Observer was able to have a brief interview with the intrepid duo to learn more about the experience of this historic achievement of theirs.
Excerpts…

Q: How would you describe the feeling when you reached world's highest mountain?
Jayanthi: It was an amazing feeling. I was happy, excited and emotional and could not believe the fact that I was actually on top of the world. It was like being on a plane.
The only difference was that I was not inside a plane but standing at the height that planes usually cruise at. I would say this experience has been both amazing and surreal.
Johann: It was an amazing feeling to know you were standing at one of the highest points in the world but it was disappointing to know that I was 400m short to the summit.
Q: How was the view from above?
Jayanthi: It was 5am when I reached the top of the mountain. The full moon was setting on my left while the sun was rising on my right. Photos cannot justify the view from the top and that view will be etched on my memory forever.
Johann: It is amazing because everything you see is below you and you are standing on the border with China on one side and Nepal on the other side.
Q: Did you face any emergencies/risky situations during the trek?
Jayanthi: We did face some difficult situations. When coming back down from the summit, there is a point at which my oxygen cylinder had to be changed. But due to the extreme cold, it took about 10 minutes for my Sherpa to change the oxygen cylinder which meant that I was out of oxygen and found it very hard to breathe. It was quite scary.
Johann: I faced quite a lot of risky situations including crossing the ice fall when the ice is melting / moving risk of avalanches and injuries like frostbite.
Q: How long did it take for you to complete the final phase of the trek?
Jayanthi: It took me 9 hours from camp 4 to the summit of Everest.
Johann: Roughly it took about 8 hours for the last phase.
Q: What was the toughest challenge you faced and worst moment of this experience?
Jayanthi: For me the toughest challenge was to stick to the necessary timing between camps which meant that I had to maintain a certain speed in order to remain in the expedition.
Johann: One of the worst moments for me was to see someone falling off the mountain to his death. Toughest challenge was the steep gradient we had to climb through deep snow.
Q: What message would you give to the Sri Lankans? Especially to Sri Lankan women?
Jayanthi: Follow your dreams. You live only once so why not live it to the fullest? My message to women would be nothing is impossible and don't let our patriarchal society stop you from doing what you want and chasing your dreams. Make use of opportunities when you are given one.
Johann: Chase after your dreams and work towards that till you achieve your goal.
Q: How are you going to make use of this achievement? What causes would you support?
Jayanthi: I will be more than happy to advise anyone who would like to give it a try, especially for women.
As I have done so in the past I would support gender equality and do everything I can to show that girls can do anything if given a chance.
As a woman I'm proud to be the first Sri Lankan to reach the world's highest mountain.
Johann: Climbing Mount Everest was a personal goal of mine. I have been supporting many causes including the Alzheimer's Foundation and would support whatever I will find deserving.