England 498/9 dec; Sri Lanka 91/8:
Woeful Lanka faces another three-day trouncing
DURHAM: If the conditions and pitch and Leeds were bowler friendly there was no excuse for Sri Lanka's woeful batting display at Chester-le-Street here where the sun shone brightly and the pitch didn't give as much assistance to the bowlers.
Chasing England's imposing first innings of 498-9 declared Sri Lanka tumbled towards a possible three-day defeat as they teetered on 91 for eight wickets in their first innings and faced a follow-on for the second successive time in the series. With their innings in total disarray Sri Lanka trailed England by 407 runs with only two wickets in hand.
The destroyer of Sri Lanka's first innings was all-rounder Chris Woakes who replaced the injured Ben Stokes for this match. Woakes the quickest of the England bowlers prized out Angelo Mathews (3), Kusal Mendis (35) and Milinda Siriwardana (0) to end the day with figures of 3 for 9 off seven overs.
Woakes' destructive performance came after Jimmy Anderson and Stuart Broad the destroyers of the Lankan batting at Leeds had set it up for him with the wickets of Dimuth Karunaratne (9), Kaushal Silva (13) and Dinesh Chandimal (4) in their opening spells.
All what Anderson and Broad did was bowl down a good channel putting the ball in good areas and wait patiently for the batsmen to commit a mistake because the ball was not doing as much as it did at Headingley.
Thirimanne and Herath held up England's advance with a 21-run stand off 98 balls, but Broad coming back for his second spell broke the stand by having Herath caught fending for 12 and then removed Shaminda Eranga for two in the same over. Thirimanne was undefeated on 12 with Lakmal on nought.
Sri Lanka who stuck to their task well on day one were unable to continue that consistency on the second day as they spilled three easy catches – two off Moeen Ali who went onto score his second Test hundred and carry England to a total which no one thought they would reach when play resumed with the score on 310-6.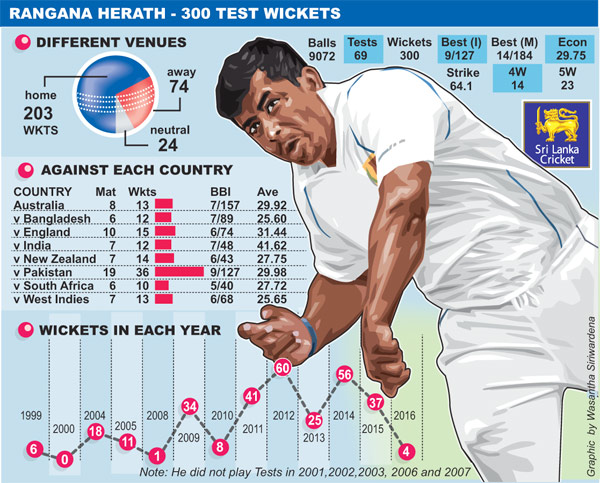 Whatever chances Sri Lanka had of dismissing England for under 350 vanished within the first half hour's play when both overnight batsmen were put down to relatively easy catches.
Karunaratne dropped Moeen Ali in the gully at 36 off Nuwan Pradeep in the third over of the morning and five balls later wicket-keeper Chandimal failed to get his glove behind a thick edge from Woakes (8) off the luckless Shaminda Eranga. Chandimal who took a painful blow on his right thumb towards the end of the first day was clearly feeling the effects of that injury and at the first drinks break was replaced by Mendis behind the wicket.
Sri Lanka had to wait 35 minutes before the lunch interval before they managed to break the seventh wicket stand between Moeen and Woakes who by that time had added a valuable 92 runs. Lakmal had Woakes caught by Mendis for 29 and Mendis was also into action when he held the edge from Broad (7) to give Nuwan Pradeep his fourth wicket of the innings.
However the Lankan bowlers could not clean up the England tail as Steven Finn frustrated them in another partnership that produced 72 runs for the ninth wicket. Finn stuck it out for 67 minutes for 10 runs and helped Moeen to his second Test century which he brought up with his 12th four off 152 balls. Finn became the persisting Rangana Herath's 300th Test victim when he top edged a sweep to the bowler who held it comfortably. It took Herath 29 overs to arrive at the landmark and he became the third Sri Lankan bowler to achieve this feat after Muthiah Muralitharan (800 wickets) and Chaminda Vaas (355 wickets).
Sri Lanka could have dismissed Moeen at 105 but they allowed him the luxury of another dropped chance when Milinda Siriwardana made a mess of a top edge at deep square leg off Eranga. Moeen capitalized on these lapses to bring up his 150 with a six off Lakmal and was unbeaten on 155 scored off 207 balls with 17 fours and two sixes when England declared. It was Moeen's second Test century. His first was also against Sri Lanka two years ago at Leeds.
Sri Lanka seemed to have lost the plot after the lunch break when they went on the defensive and allowed Moeen and Finn to add easy runs. They had six to eight fielders on the boundary edge which did not give the bowlers much encouragement on a placid wicket.
SCOREBOARD

ENGLAND 1ST INNINGS
(310-6 overnight)
A Hales c Mathews b Siriwardana			83
A Cook c Karunaratne b Lakmal			15
N Compton c Lakmal b Pradeep 			09
J Root c Silva b Pradeep 			80
J Vince c Thirimanne b Siriwardana		35
J Bairstow c Chandimal b Pradeep		48
M Ali not out				       155
C Woakes c Mendis b Lakmal 			39
S Broad c Mendis b Pradeep 			07
S Finn c and b Herath 				10
J Anderson not out 				08
Extras (b-1, lb-8) 				09
Total (nine wickets declared, 132 overs)       498

Fall of wickets: 1-39 (Cook), 2-64 (Compton), 3-160 (Hales)
		 4-219 (Root), 5-227 (Vince), 6-297 (Bairstow)
		 7-389 (Woakes), 8-400 (Broad), 9-472 (Finn)
Bowling: Eranga 27-3-100-0
	 Lakmal 29-4-115-2
	 Pradeep 33-5-107-4
	 Herath 29-1-116-1
	 Mathews 6-2-16-0
	 Siriwardana 8-0-35-2

SRI LANKA 1ST INNINGS
Dimuth Karunaratne b Anderson			09
Kaushal Silva c Bairstow b Broad		13
Kusal Mendis c Anderson b Woakes		35
Dinesh Chandimal c Cook b Anderson		04
Angelo Mathews c Bairstow b Woakes		03
Lahiru Thirimanne not out			12
Milinda Siriwardene c Bairstow b Woakes		00
Rangana Herath c Root b Broad			12
Shaminda Eranga c Root b Broad			02
Suranga Lakmal not out				00
Extras (lb 1)					01
TOTAL (8 wickets; 40 overs)			91

To bat: Nuwan Pradeep
Fall of wickets: 1-10 (Karunaratne), 2-44 (Silva), 3-53 (Chandimal)
		 4-58 (Mathews), 5-67 (Mendis), 6-67 (Siriwardena)
		 7-88 (Herath), 9-90 (Eranga)
Bowling: James Anderson 11-2-31-2
	 Stuart Broad 11-2-35-3
	 Chris Woakes 7-4-9-3
	 Seteven Finn 7-3-15-0
	 Moeen Ali 4-4-0-0