Asgiriya stadium longing for a facelift
The Asgiriya cricket grounds which belongs to Trinity College Kandy, and has also helped all sports in a big way in Kandy especially cricket at present badly needs an uplift.
Most of the world's great and famous cricketers have played in this picturesque venue. From Sir Frank Worrell of West Indies, Fazal Mohammad of Pakistan, Bill Lawry, Colin Cowdrey, John Edrich Leslie Ames, Vijay Merchant, Lindsay Hassett, Sir Learie Constantine to Sunil Gavaskar, Ajit Wadekar and others too numerous to mention have made lasting impressions.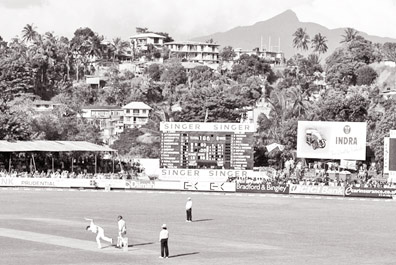 Even cricket writers such as Robin Marlar once said that the stadium can be easily placed on par along with the world's best cricket grounds.
West Indies fast bowler, Joel Garner, the 'Big Bird' who visited Kandy too was impressed but lamented that international cricket was no longer being played at Asgiriya.
Rev. A.G. Fraser's tenure as the Trinity College Principal was the driving force behind the construction of the venue.
Trinity started construction work of the stadium in 1910 and it was ceremonially opened in 1915 by Sir Robert Chalmers, the Governor of Kandy. The first inter-school match played at Asgiriya was between Trinity and S. Thomas' Mount Lavinia on 24th and 25th of February 1915. This game was won by the Trinitians by an innings. Prior to Asgiriya being built, Trinity played their cricket at the Bogambara Grounds.
Since then, various changes have taken place at this venue. When Rev A. G. Fraser assumed office as Principal in 1904, he was aware of the lack of a suitable playing area for 400 students of which 200 were boarders, so the school needed a suitable area for a playground for cricket and found a site at Asgiriya which was 300 yards away from the school. Notice of Rev. Fraser's application on behalf of Trinity College, for the lease of the Crown land called the Military Grounds was gazetted in Ceylon Government Gazette on 2nd May 1923. Permission was granted to the school to commence work, pending the formal execution of and indenture of lease. The Government Agent at the time had said that the annual lease rental would be Rs. 30 per annum. Making the ground took six years from 1909 to 1915.
After 67 years, when Gamini Dissanayake, an old Trinitian, took over the reins of Sri Lanka Cricket, he used modern machinery and within a short period of 150 days converted it into an International Cricket Stadium in 1981. Late Gamini Dissanayake cut the first sod of soil to start work and on 5th January 1982, the late President J. R. Jayewardene - a fine cricketer himself at Royal - ceremonially declared opened the stadium. And it was this writer as member of the Municipal Council that proposed the name of Gamini Dissanayake to the road leading to Asgiriya grounds. The ground became a reality during the principalship of late Rev. Dr. W.G. Wickremasinghe. A modern pavilion, with three floors, was constructed - ground floor exclusively for players, umpires and officials with all facilities - while the other two floors to accommodate over 1,500 spectators. A well equipped media box and a modern scoreboard was also installed. Then the turf wicket was prepared by T. M. Omardeen under the supervision of Abu Fuard who coordinated on behalf of the Cricket Board. Old Royalist Shaw Wilson who was Trinity's cricket coach at that time, became the first curator and later Trinity's Alex Lazarus followed by Roger, Lucky Abeyrathne and Krishan Dias to name a few.