Flood insurance claims to surpass Rs.7b mark
25% of claims already settled:
Insurance companies have already settled over 25% of the claims made by the flood-affected people across the country, a top official of the industry said.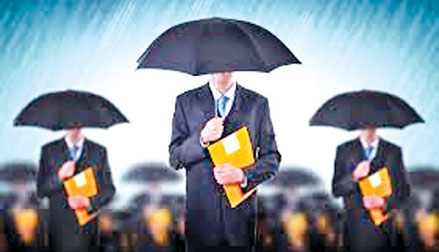 The industry expects the value of the claims to surpass the initial estimate of Rs. 7 billion as the number of claims is expected to go up when people fully settle down over the next few weeks.
Finance Minister Ravi Karunanayake said post-flooding reconstruction costs would be between Rs.150 and 250 billion.
President, Insurance Association of Sri Lanka, Dirk Pereira said companies have settled over 25 percent of the claims and added that larger claims will need more time as they needed to be assessed by overseas or local professional loss adjusters.
He said settlements of vehicle claims are rather easy as they are straight forward.
With regard to the large claims, he said there is no issue of settling claims as insurance companies are backed by reinsurance. "The negative impact of the recent floods is much greater than the tsunami in 2004," Perera said.The insurance industry hailed the setting up of the insurance trust fund in line with the concept of having retrocession in insurance. Reinsurance is a type of insurance wherein part of the risk taken by an insurance company is taken on by another insurance company.
Chief Operating Officer, Janashakthi General Insurance Ltd, Dayalanie Abeygunawardena said the company had already settled 60% of the claims and added that over 25% of the claims was settled on the day intimations were made.
"Of the 2,250 claims, 1,800 are motor and the rest are non-motor claims. Advance payments have been made to around 50% of the remaining claims," Abeygunawardena said.
With regard to property claims, she said loss adjusters have to assess the losses. Three-wheelers, motor bicycles and cars account for a major component of the claims in the motor sector.
HNB Assurance and HNB General Insurance, CEO Deepthi Lokuarachchi said other than damages at construction sites, factories and warehouses, other claims were settled immediately on agreeing upon the damage estimates. Assessment of loss to factories, warehouses and construction sites are complex as it takes time to figure out the extent of damage.
"We have given them the flexibility to invite experts and carry out proper estimates without rushing so that they get the real value in claims," he said.
Director and CEO, Asian Alliance Insurance, Ramal Jasinghe said around a 25% of the claims have been settled and added that more settlements would be made as soon as the estimates are available on damage to vehicles. "Motor vehicle claims are so far around 200 while non-motor claims are 31. All claims will be settled without a delay once the total estimate has been done," he said. Chairman, Sri Lanka Insurance, Hemaka Amarasuriya said the total value of claims is around Rs. 1,750 million with non-motor claims accounting for Rs. 1 billion and motor Rs. 750 million. "We hope to settle over 75% of the claims this week and complete all settlements within a month," he said. Ceylinco Insurance sources said all claims were settled on June 3 and new claims will be settled within seven days. Insurance industry experts said the need to obtain an insurance policy will be high following the recent destruction to life and property.