Keen foreign interest in acquisition of Mannar, Cauvery basins' data
Highest priority for exploration and development:
Exploration for offshore petroleum deposits will start in the Cauvery Basin this year while the government is giving highest priority to continue exploration and development of the Mannar Basin block where Cairn found natural gas.
Surveys to acquire more data, without which it would be difficult to attract oil majors, will also start this year. Petroleum Resources Development Secretariat Director General Saliya Wickramasuriya explains the latest position in the search for offshore petroleum in this interview:
Q: What does the government intend doing with the Natural Gas (NG) reserves that Cairn India discovered and abandoned in the Mannar Basin?
A: The Cabinet Committee on Economic Management decided on May 9, 2016 that the Ministry of Petroleum Resources Development should call for Expressions of Interest to further explore and develop Mannar Basin gas reserves, so this puts into sharp focus our efforts over the next few weeks. The primary benefit Sri Lanka has enjoyed from Cairn's investment in block M2 is the de-risking of the block (and therefore the basin) by proving the existence of multiple petroleum systems following a comprehensive data acquisition program spanning several years. The monetary value of their operations was around USD 240 million, and while none of this remains in cash, their relinquishment has sheltered this amount from future cost recovery, delivering it to us effectively as our equity in the block. It therefore has tangible value when negotiating future partnerships, and has added significant technical value to our interpretation of the whole basin.
Q: What, in your opinion, are the main priorities for the government at this time?
A: The number one priority, due to the opportunity cost involved in delay, is to establish continuity in developing Mannar Basin block M2. To this end the Ministry and PRDC (Petroleum Resources Development Committee) have given us a clear mandate to take steps to globally solicit credible industry partners on this block. Let me split the remaining part of my answer into two; below ground and above ground. Below ground, we need to capitalise on the interest of oil and service companies in acquiring Sri Lankan data to enrich our data catalogue. Any decision to invest in long-term exploration and production requires a minimum quantity of data with which to make meaningful economic projections, and most of our blocks fall short of that. We need to keep in mind that the market down-turn acts in our favour in this regard, for as soon as oil prices start to go up and petroleum operations increase, most of these service companies will lose their spare capacity. Above ground refers to legal, fiscal, regulatory and market conditions - those conditions that convert oil and gas into cash. Clearly, in an unproven province like Sri Lanka, this needs careful attention. As such, we are working on getting our new Act and Regulations passed, creating local demand for natural gas via a National Gas Policy, and assessing our legal fiscal regimes against competition on an ongoing basis. All this does not need to be done in sequence – we are coordinating with all our stakeholders to reach major milestones in time for our Minister to launch an international bid round later this year.
Q: What is the status of the agreement with Total SA for a joint study in two blocks off the east coast?
A: Total SA have submitted three Monthly Progress Reports to the PRDS since the agreement was signed in February, indicating the progress in their plans to launch explorations in East Coast blocks JS5 and JS6. They are in discussion with the top two seismic service providers who responded to their RFP (request for proposals), and are planning to commence a deep water 2 D seismic survey in the third or fourth quarter of this year.
Q: The PRDS has called for Expressions of Interest for gravity and magnetic surveys in the offshore Mannar and Cauvery basins. Could you explain what this work involves and the expected outcome?
A: This scope of work was first tendered in 2012, with a view to obtaining data on gravitational and magnetic field variations over the Mannar and Cauvery basins in time for the 2013 Licensing Round. Delays in getting the approvals for this data acquisition program led to the data being unavailable during the bid round, and the proposed survey was finally approved by Cabinet only in 2015. By this time, the company that had been competitively selected for the work had gone into receivership as a result of the downturn in the oil and gas industry, necessitating another RFP being issued for the same scope of work in the same business model recently.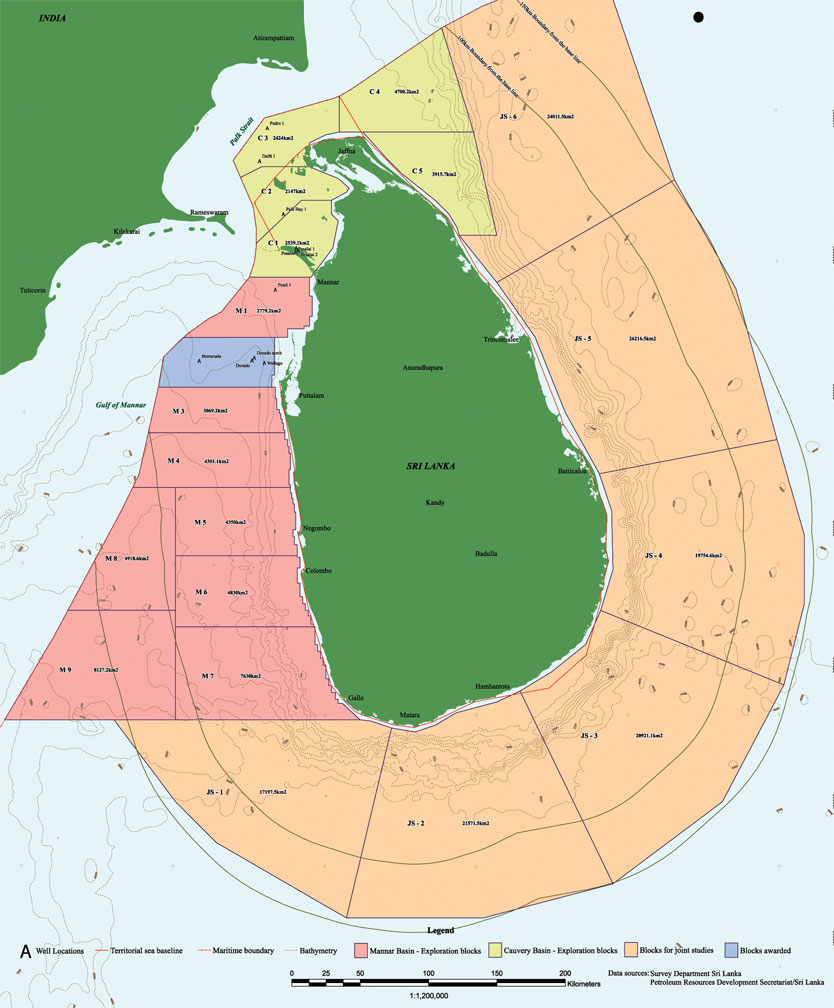 Q: Do you have any plans for additional data acquisition before the next bid round?
A: Yes we do, as without new data, a third bid round would raise little interest. In addition to the seismic data Total will acquire off the East coast, we have received several proposals from well known specialist companies to conduct various types of data acquisition in both the Mannar and Cauvery basins. In particular, one broad proposal from a leading global company contains substantial training for Government officials in various Ministries in addition to the various acquisition programs in "sweet spots" of the basin, and the PRDC Chairperson and Ministry Secretary has set up a technical committee to evaluate them all and submit appropriate recommendations.
Q: Were these proposals tendered for and who is going to pay for them?
A: One of them was, since it was a very specific requirement for airborne gravity and magnetic data. The others have been received from various reputed companies over the past few months, each of them for a different scope of work in line with the proposing company's available time, resources and technical capabilities. Sri Lanka will not need to pay for any of these services, but will license the provider to acquire the data, give us our copy, and then sell sets to multiple interested oil companies. Proceeds from the sales will go towards recovering the cost of the survey, and any surplus will be profit, in most cases shared with the government. This business model is therefore called 'multi-client', and is very common worldwide. It is typically a win-win arrangement, as the service companies utilise spare capacity to strengthen their commercial data library and therefore generate long-term revenue potential, host countries obtain data in sometimes marginal areas at no cost, and oil companies who underwrite the initial cost of the surveys receive a decent discount. Of course, service companies expect host countries to create market opportunities like bid rounds, etc, to stimulate interest in data sales.
Q: What are the other offshore blocks that will next be bid out for exploration and when?
A: The highest priority is to continue exploration and development of Mannar Basin block M2, in which the Cairn gas discoveries were made. The airborne gravity/magnetic and seismic data we hope to start acquiring this year, along with the new Petroleum Bill and Natural Gas section of the new National Energy Policy, will need to be in place before we announce a new Licensing Round.
Q: What is the status of the last bid round, especially the blocks given in the Mannar and Cauvery basins?
A: We received three bids during the last round. One was for Mannar Basin block M5, a deep water block, submitted by Cairn, who at that time were seeking to expand their operations in Sri Lanka. This bid has now lapsed, since Cairn have relinquished their acreage in full. The other two bids were received from Bona Vista from Singapore, who have committed to maintain their original work programs, and the evaluation process of their submitted bids and documentation is nearing finalisation. Assuming no unexpected delays, we now expect activity in the Cauvery Basin to also start within this year.
Q: Sri Lanka is seeking to replace the proposed coal plant in Sampur, Trincomalee with a Liquefied Natural Gas (LNG) plant. Isn't there a danger of another 'power crisis' in future by stopping the Sampur project on which much preparatory work is over, delaying planned addition of capacity, just like when the Lakvijaya plant at Norochcholai was delayed?
A: Combined Cycle Gas Turbine (CCGT) units themselves are relatively standard items unless of unusual specification, with a lead-time of less than two years. Certainly, at the planning stage of a power plant, the few extra months it may take to amend the design of the plant will be completely worth it. The significantly lower cost of natural gas derived power versus coal power will absorb any additional expense within a matter of months. Do also remember that a coal power plant requires a deep water jetty and extensive coal and fly ash handling facilities, none of whose capital cost has been added to the Sampur plant in any quantifiable manner. There are a few other things to say here; NG is cheaper than coal in terms of plant capital cost, it has almost a negligible environmental footprint, CCGT plants are more efficient in terms of cooling (the Kerawalapitiya plant does not continuously discharge hot water into the Negombo lagoon – it has a cooling tower that requires flushing only once a month), space requirement and feedstock delivery infrastructure. With the world now moving to gas for power generation from coal, including India, the US and many other coal-producing countries themselves, I can't understand how any professional energy planner can continue to recommend coal for Sri Lanka. The ONLY argument in the past was non-availability of natural gas at a competitive price versus coal, and that argument has evaporated with world gas prices tumbling, an almost permanent oversupply predicted when the huge East African and Australian reserves come on stream, and a spot market at 30% and growing, giving rise to very flexible and sustainable procurement models. Even LNG-handling infrastructure is coming down in price globally with over-capacity and technology advances making economies of scale a lot easier to attain. One last point is that many people who participate in the Sampur coal versus gas debate have never actually been to Sampur. I can assure you that if they do, the right thing to do will become obvious – it is one of the most beautiful places in Sri Lanka.
Q: A Japanese study says LNG is feasible in Sri Lanka only for a plant with a minimum 1,000MW capacity. How have the costs of LNG and LNG transportation and terminal infrastructure changed in recent years to make LNG viable now?
A: As mentioned earlier, we are now in a new paradigm of LNG price and availability, and would be foolish to ignore the potential of this opportunity to convert most of our power generation to gas. In any event, if you add the 630 MW of Kerawalapitiya, AES and Kelani Tissa to the 500 of Sampur and 300 of the new CEB CCGT plant, you get 1430MW. Also remember a huge point – we will always need to import coal, but we do have indigenous natural gas. Already-discovered volumes are enough to power that 1430 MW for the entire lifetime of the plants, and the cost of production drops drastically after the capital cost of the deep water infrastructure gets depreciated (5–10 years, depending on financing methodology). So who is prepared to recommend that we forsake a cheap domestic source of energy to commit to permanent import?
Q: Petronas and Mobil have expressed interest in oil exploration in Sri Lanka while Japan and Korea have expressed interest in Sri Lanka's potential to develop a domestic gas industry. Could you give details of these proposals?
A: As a pure Exploration and Production (E&P) opportunity – in other words granting an investor the right to explore for, produce and sell oil and gas in the open market - Sri Lankan deep-water fields are not attractive in current industry conditions. The only way to 'sweeten' the deal is to include in the scope of work mid-stream (transport) and down-stream (processing, manufacture) opportunities as well. This implies that Sri Lanka may be more attractive to companies vertically integrated in the whole natural gas value chain. KOGAS and Petronas are two examples of such companies – the former is the world's largest importer of LNG, and the work they have done in gassifying South Korea in a relatively short period of time is nothing short of remarkable, and of course Petronas is a major LNG exporter, whose commercial and technological successes have transformed the Malaysian economy.
Q: Why is the national gas policy delayed? What are its key features?
A: This is delayed due to its scale and implications. First, it needs to be holistic in nature, taking into account cross-cutting impact (for example, petrochemical, fertiliser, ceramic, steel and transport are sectors which are impacted, other than the obvious power), which requires a broad consultative process, and second, it needs to be embedded in a larger national energy policy rather than being a stand-alone piece. A further essential element is that it must contain monetisation, or commercialisation options for investors, with appropriate investment protection, requiring, again, a broad consensus between the Petroleum Resources Development Ministry, the Central Bank, Ministries of Finance, Power and Renewable Energy, Economic Development and National Planning, and all other institutions impacting and analysing our economy. Finally, it must stand the test of international competitiveness, as it will be one of the most influential documents on foreign investment in the energy sector. The Ministry of Power and Renewable Energy has taken the lead in revising the umbrella document – the National Energy Policy, and a draft has recently been circulated by the Secretary to the Ministry seeking preliminary input towards the next stage. If you wish to understand more about the gas policy, you will see on our website (www.prds-srilanka.com).