Toyota: Prius, Mirai lead innovation

Toyota Motor Corporation is the world's leading car-maker, though Volkswagen is likely to overtake it this year in terms of unit sales despite its diesel emission scandal according to a report in the Forbes magazine.
Toyota, which has held the top crown for the past four years, published its global sales and production data for April last week showing that sales through the first four months of the year were about 90,000 units behind VW, which was the top seller.
According to company figures provided by car makers from January through April, Volkswagen sold 3,361,600 units, Toyota - 3,271,970 units and General Motors - 3,146,667 units. Projections show that VW will beat Toyota to the crown this year.
Three brands
Toyota is headquatered in Aichi, Japan and has manufacturing plants in Japan and many other countries. Toyota also makes Lexus brand luxury cars and Hino brand trucks, while Daihatsu is a Toyota subsidiary. All three brands are available worldwide, including Sri Lanka.
It is also the most popular car brand in many countries including Sri Lanka, although Suzuki's Indian made vehicles are the biggest sellers here. Toyota's biggest seller globally is the Toyota Corolla, which has been manufactured since the 1970s.
Toyota has blazed a trail in inventions and innovations since it was founded 78 years ago by Kiichiro Toyoda, whose grandson Akio Toyoda is the incumbent of CEO of Toyota Motors. (Legend has it that Toyoda was reluctant to name the company after himself, hence the slight change to 'Toyota'). If the patent output is any indication, Toyota Motor Corp. is positioned to dominate the global market for fuel cell, electric and hybrid vehicles.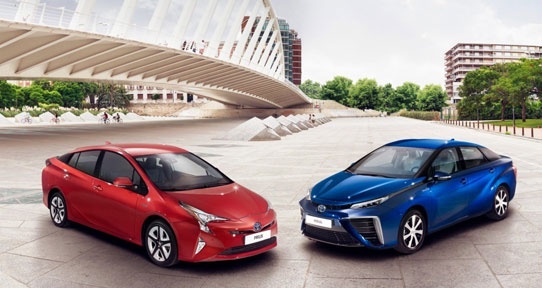 The Japanese automaker has been churning out technology and process patents far ahead of its competitors. From 2011 through 2015, Toyota and its engineers were granted 9,807 patents for inventions related to alternative-powered vehicles, a new Thomson Reuters study concludes.
As part of this innovative streak, it produced the world's first petrol-electric hybrid car in 1997 - the Toyota Prius. Now in its fourth generation and just launched in Sri Lanka, it has just been found to be the hybrid car with the best mileage by Consumer Reports magazine.
The 2016 Toyota Prius has better fuel economy than any car Consumer Reports has tested, besting the 16-year-old Honda Insight by a single mile per gallon.
CR found the new Prius scored an average of 52 mpg (5.4 litres per 100 km) handily beating the 44 mpg made by the 2015 Prius.
That is because the new Prius is more aerodynamic, has a better battery, and uses the on-board electricity more efficiently. In a 65 mph (approx 110 kmph) highway test, the 2016 Prius achieved 59 mpg (4.8 litres per 100 km), a better rating than any diesel car the magazine has ever tested. In city tests, it notched a respectable 43 mpg. Toyota manufactures a few other hybrids including the Axio, RAV4, Voxy and Prius C (Aqua).
Hybrid sales
Toyota last week announced in a news release that its cumulative global hybrid sales through from August 1997 to April 2016 tallied 9.014 million.
Toyota has also launched a zero-emission (actually, water vapitr is emitted) hydrogen fuel cell powered car called the Mirai ('future' in Japanese) in Japan, USA and a few other countries where hydrogen filling stations are also available.
Analysts expect hydrogen cars to go mainstream only after a decade, given the infrastructure challenges. Only a very few countries and regions have hydrogen filling stations at present.
The battery research, announced this month, tweak the chemistry of next-generation power packs for denser energy storage to deliver longer drives for electric cars and hybrids. Toyota is researching the use of magnesium, in place of lithium, as the base chemical for batteries that could appear in the next 20 years.
Rival Nissan is looking at additives that will improve the performance and energy capacity of today's lithium batteries.
Like all other car makers, Toyota has realised the changing dynamics of the car industry and the ownership model. With pay-per-ride services such as Uber (now available in Sri Lanka), people are no longer willing to buy cars that are expensive to maintain.
Therefore, Toyota recently announced an investment partnership with Uber soon after rival Volkswagen said it was investing US$ 300m into Tel Aviv-based ride-sharing app called Gett and General Motors announced it was investing US$ 500 million into Lyft, Uber's biggest direct competitor.