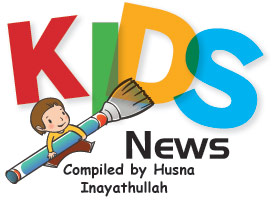 Jayanthi Kuru-Utumpala :
First Sri Lankan to summit Everest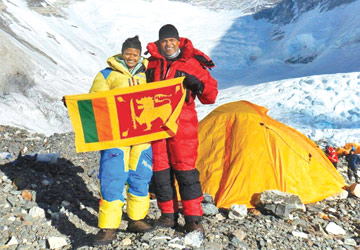 Jayanthi Kuru-Utumpala created history as the first Sri Lankan to summit Mount Everest recently. Two Sri Lankans, Jayanthi Kuru-Utumpala, a former woman journalist and Johann Peries, left for Nepal on March 28 to climb the Everest, the highest mountain on earth. Located in the Mahalangur mountain range in Nepal and Tibet, its peak is 8,848 metres in height. In a congratulatory message, Prime Minister Ranil Wickremesinghe said that reaching the summit of Mount Everest was a formidable and challenging proposition.
Jayanthi Kuru-Utumpala has done Sri Lanka proud by achieving this feat, he noted. "It is our fervent hope that Johann Peries will also be able to reach the summit of this mountain without impediment". "Together with all Sri Lankans, I am joined by my wife, Prof. Maithri Wickremesinghe, in expressing our deep appreciation of this valiant achievement", the premier said in his message.
---
Uniforms are not compulsory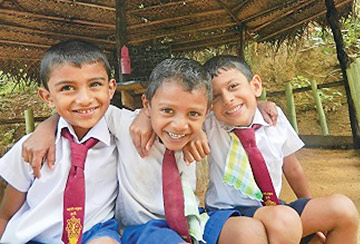 Minister of Education, Akila Viraj Kariyawasam said that children in disaster affected areas were allowed to wear any suitable dress to school and that uniforms were not compulsory.
The Minister instructed the officers to allow the children in disaster affected areas to wear any suitable dress instead of uniforms when they come to schools until the prevailing disastrous situation ceased.
The Minister has taken this decision after discussions with the officers and taking into consideration the appeals that the children cannot come to schools due to practical issues such as uniforms being destroyed and that dresses cannot be washed and dried under the situation. The affected children were given permission until the situation ceased.
---
Awards Day ceremony at Muslim Ladies College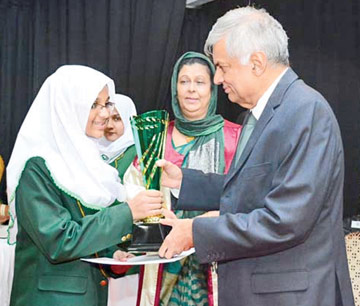 Muslim Ladies College, Bambalapitiya held the Awards Day ceremony at the College Hall recently, under the patronage of Principal Dr. J.M.K.B. Hajarjhan Mansoor. The Chief Guest, Prime Minister Ranil Wickremesinghe distributed awards.
Nilasha Farvin Mohamed Nasmy from the Junior section, Fathima Uzma Khan from the Senior section and Most Outstanding Student of the College, Fathima Rifka M. Mahir received their awards from the Prime Minister.
Text and Pic : Ruzaik Farook
---
Examinations Dept. to issue duplicate certificates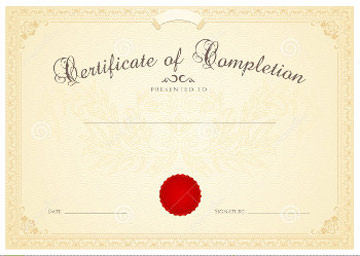 The Minister of Education Akila Viraj Kariyawasam instructed the Commissioner General of Examinations to take immediate steps to issue duplicate certificates to people whose certificates of examinations have been destroyed due to floods.
Accordingly, the Department of Examinations has taken steps to hand over the certificates through the relevant zonal education officers and Grama Niladharis.
This is in addition to the current one-day service operated by the Department of Examinations to issue certificates.
Another method for issuing examination certificates was also introduced to people who do not have sufficient information (Index number, national identity card, birth certificate, result sheets) for verification of identity.
The Department of Examinations is taking steps to send specimen applications to Grama Niladharis through Zonal Education Officers. Then the affected people would be able to re-apply for their certificates through the Grama Niladharis of their areas.
It is also scheduled to send officers from the Department of Examinations to the relevant areas for coordination of these activities.