Ambuluwawa dump, step-by-step solutions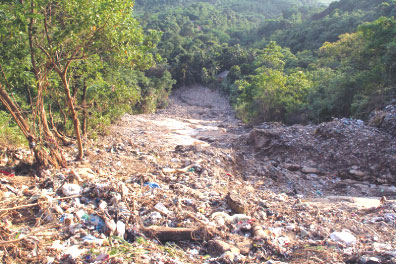 The garbage issue in Ambuluwawa is being addressed by the authorities following a hearing at the Human Rights Commission(HRC) in Kandy. Villagers who were displaced due to the landslide in Ambuluwawa lodged a complaint with the Commission on the violation of their rights by the Urban Council in Gampola.They also said that for some years now the site had become a garbage dumping site and tons of garbage were being dumped at the site. Kandy Regional Coordinator of the HRC Kumudini Vithana said the Gampola Urban Council was taking steps to install pipelines to the houses of affected communities to ensure a clean water supply. "This is scheduled to be completed by Tuesday, June 7."
The Secretary of the Gampola Urban Council Gamini Jayawickrema said tons of garbage that slid down the mountain covering the houses of displaced villagers will be cleaned this weekend, and the Urban Council will ensure their houses are in good condition and livable. Jayawickrema who was appointed three weeks ago to address the garbage problem in Gampola said he was meeting the relevant Ministers to garner support from the higher authorities to select an appropriate land to earmark for garbage dumping.
Complainants and respondents will meet HRC representatives in Kandy in two weeks to discuss the progress and to assess the problem and also those who were responsible for dumping garbage in Ambuluwawa.
(IYK)