[Help]
Osteoporosis patient appeals for help
Mrs. Monika B. Peiris of 11, Katukurunda, Moratuwa is suffering from very severe Osteoporosis and is in pain.
Consultant Endocrinologist of the National Hospital of Sri Lanka, Dr. Noel P. Somasundaram has recommended a course of Teriparatide injections costing around Rs. 1,200,000, which she cannot afford.
Monika appeals to the generous public for contributions which may be remitted to A/C No: 0220-2028-1355 of the Hatton National Bank.
The patient may be reached at 077-0128133.
---
Cancer patient appeals for further help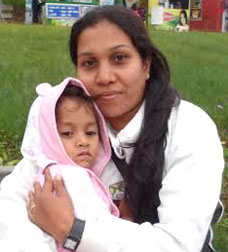 Savani Jayakody (35), a mother of two, from Moragoda, Gampaha who has been suffering from Anaplastic Lymphoma, since 2014, was advised by Senior Oncologist, Dr. Jayantha Balawardane of the National Cancer Institute, Maharagama to undergo bone marrow transplant surgery in India and the procedure was estimated to cost around Rs. 9 million.
Her family appeals for help from generous well-wishers once again, as she is in financial straits midway through her treatment in India. Contributions may please be remitted to: A/C No. 011035395690101, J.A.D.N Savani Jayakody, Seylan Bank, Gampaha or A/C No. 875367 P.A.D.D Sampath, Bank of Ceylon, Gampaha.
Please contact: 0718405103/0718005130