Saman Leema Pereira - Extraordinary Versatility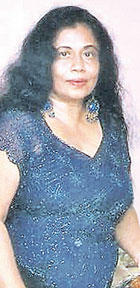 Saman Leema Pereira is inspired to paint by the beautiful natural surroundings of her home in the village of Medawathugoda. She says the surroundings of coconut trees, paddy fields, jack fruit trees and the river gives her serenity and enables her to be creative. She explains that no one in particular influenced or encouraged her to paint, and when her children started schooling she found plenty of time to paint.
She likes painting on glass and all the designs for glass paint are her own, and she has a collection of designs based on different themes and topics.
She uses different brushes and glass paint outliner with vibrant colours. She first draws a design on paper and then she draws the design on glass using the glass paint out liner which gives a stained glass effect.
Saman Leema also draws figures and landscapes because she comes across a wide range of natural scenes in her surroundings. She uses media such as water colour, acrylic, oil on canvas and pencil and also does mosaic art and handmade greeting cards.
The artist spent her formative years of her childhood with her siblings in archaeological sites in Sri Lanka because her father was an archaeologist who worked in Sigiriya, Dambulla, Polonnaruwa, Anuradhapura, Yapahuwa and many other historical sites. She remembers holding her father's hand while climbing Sigiriya for the first time and walking with him through the jungles of Sigiriya.
Her father would describe the ancient sites he worked in and that developed her love for art. She studied in the Kuliyapitiya Convent, and then moved to Colombo and studied at Lindsay school in Bambalapitiya. After completing her schooling, she joined Lankadeepa as a journalist for a few years.
Saman Leema has held two exhibitions at the Sri Lanka National Art Gallery and has a gallery at home.