G. Watuwalagedara: Depicting disillusionment and despair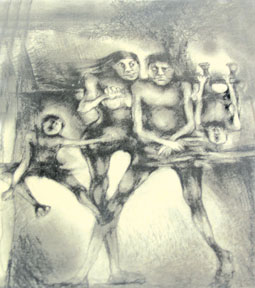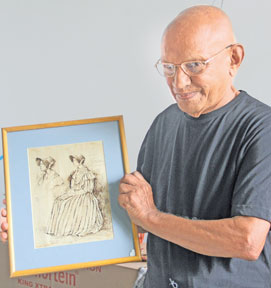 For G. Watuwalagedara art is a form of expression and he uses semi-abstract art and symbolism to communicate what he cannot express in words. Some of his paintings depict the disillusionment and despair he experienced during one of the most difficult periods in his life and there is a contrast between his recent paintings and the paintings he did when he was a student at the prestigious Saint Martin's School of Art in London.
He describes the paintings he did at Saint Martin's as realistic art which required skilled craftsmanship and is aesthetic in nature. He says that the environment in which an artist lives influences his work, and his paintings also depict disturbance, uneasiness, indecisiveness, restlessness, violence and war.
In these paintings the human figure has been distorted purposely in order to create a picture that is open to multiple interpretations. He uses a mixture of oils and acrylics and places objects to fill the spaces in his paintings and is not concerned about its design or meaning. He also studied art under David Paynter and attended Haywood College. He is influenced by the philosophy of Bertrand Russell and likes listening to music.