Hijab: Focus on variety, colourfulness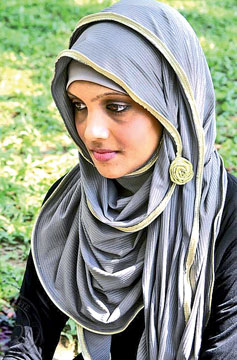 A Hijab represents a religious concept but there are those who say that it is fast becoming a fashion statement as well.
A hijab according to Muslims symbolises modesty, privacy and morality. The Islamic teachings refer to modest dressing as covering the body except face and hands in public. The term hijab in Arabic literally means "a screen or curtain" and is used in the Qur'an to refer to a partition.
Muslim women from different nationalities wear the hijab differently. The many ways it is wrapped denotes an effort to look more presentable or fashionable. There was a void in the Islamic fashion Industry but now things are changing.
Italian fashion house Dolce & Gabanna recently became the latest designer brand to release a 'modest-wear' range, joining the likes of Oscar de la Renta and Tommy Hilfiger. Dolce & Gabbana is also set to launch a line of abayas and scarves in its signature colourful prints by October 2016.
Dolce & Gabbana has sales outlets in the Middle East, London, and Paris. They offer trimmed pieces in black lace and accessorized with oversized sunglasses, cocktail rings, stilettos, and statement bags. Muslims and non-Muslim fashionistas around the world alike have greeted Dolce & Gabbana's announcement with jubilation. The impact that this would have locally is already visible. Many hijab stores are popping up as more Muslim women are becoming fashion conscious.
The Sunday Observer spoke to some Muslim women who are interested in new trends of hijab and to some hijab boutique owners.
The owner of Hijab boutique, Iaz Abdul Cader said "'Hijab Boutique' is a home based business that I do in Nugegoda. We tailor Hijabs for the Sri Lankan Muslim woman who loves to dress up in the outfit she wears. I started my Hijab Boutique in 2008 when I returned after a short stay in Malaysia. My stay in Malaysia inspired me to wear fashionable hijabs. This sort of style was not much followed in Sri Lanka but people are now trying to follow."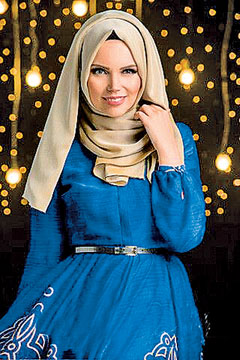 She said that she mainly focuses on creating fashionable hijabs to match outfits for special occasions. "When I was in Malaysia I just loved the different styles of head scarves the Malaysian women wore. I started creating different styles of Hijabs. I promote my Hijab designs through an FB page named Hijab Boutique (www.facebook.com/HijabBoutiqueSL). Anyone, anywhere could see the type of hijabs I design. I incorporate Arabian, Egyptian and Malaysian Hijab designs," she said.
Iaz said that she uses the best of fabrics available in Sri Lanka such as Satin, Georgette, Lace, Raw Silk and stretch fabrics. She designs according to the customers' requirement. "Wearing the Hijab every day, sometimes would take us hours in draping a shawl but at Hijab Boutique we create "No-Pinning- Hijabs" which are easy to wear in a short time. We also design Hijab Caps, Inner Caps, custom tailor shawls and Amira Hijabs. I have designed easy to wear no pinning hijabs and easy Hijabs with Pashmina shawls to be worn without pinning. I follow Hijab trends from other countries. I mainly like the Egyptian and Malaysian styles. The price range is from Rs 1,500 upwards and it all depends on the work involved and the type of fabric we use," she said.
Hasna Zuhail - A housewife
I like draping the hijab in different styles. I think fashion plays a role in hijab. It is every woman's desire to look good with the changing trend. I see the hijab as empowering women to see beyond their physical beauty. It does not mean you have to be boring.
The hijab doesn't really come with a color chart or a particular style. Basically a hijab is supposed to show modesty according to Islamic teachings. Almost all the local stores have a good range of Hijabs.
Nuska Roo fin -
A biomedical student
I believe the hijab gives me the perfect sense of security. Hijab is a fashion nowadays. Wearing in different styles and fabrics in my point of view is fine given that it abides by what is actually expected of it. Wearing the hijab gives you an identity and makes one independent and gives you honour and respect. It gives me confidence and I do not follow any style in particular. I drape the shawl according to the mood and my comfort.
Kadija Latif -
A content writer

I love new trends. I do not see anything wrong with people coming up with different styles. The real purpose of the hijab to cover the head and chest should not be tarnished. I try different hijab styles to stand out in a crowd and to look unique. I love to look different but at the same time I keep up with the modesty and humility. Once in a while I drape my hijab in different ways to get away from the monotonous life and look adventurous.
Zainiya Ali - A student
A hijab reflects personality. It brings out a Muslim woman's dignity. I try new hijab styles as it makes me feel confident and strong. I like trying new styles to look more beautiful and presentable.
A hijab has its own unique looks. I surf the Internet to try new ways of draping the shawl.
Haiza Mazahim, a partner of Affrizante hijab boutique whose store has been in the market for six years said that Jezza shawls started in the West and which was introduced by them to Sri Lanka two years back is very popular among the hijab wearing crowd. She said that their brand is the trend now for its features such as non-slippery, lengthy, can do various styles with minimum usage of pins, does not need inner caps and does not give a headache.
"The inner cap is compulsory now. The Ninja cap which covers the head and the neck is the latest inner cap introduced to Sri Lanka. Many do not want to try it due to the climate of Sri Lanka. Sri Lankan hijabis do not prefer tiny shawls. I introduced a 'Hijabi gift box' recently. It contains a shawl, an inner cap and pins in a portable bag. It is a good gift to present a hijabi. I design my shawls at home in Macleod Rd, Colombo 4. My 'One collection' sale is once a year and my sale for the 'General collection' is held every two months," she said.
Haiza said that her clientele is the mid and the upper class and her designs are uncommon. "The main trend nowadays is to combine two or three shawls together and drape. There are professional drapers for occasions.
Sri Lankan Muslim women prefer to cover their bosoms for casual wear but they prefer to cover up to their neck for occasions. Affrizante is unique for stretchy shawls as it is non- iron. One can find casual and convenient shawls and abayas at Affrizante," she said.
Many non-Muslim clients also visit these shops to buy shawls and other accessories and also to buy hijabs as gifts for their Muslim friends.