'Special Congressional Recognition' for Alston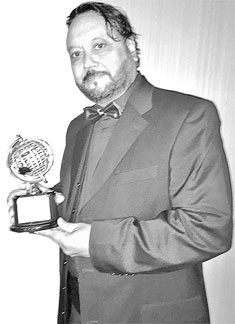 Sri Lankan born Alston Koch has been recognised and commended for 'Special Congressional Recognition' by the US Congress for his 'Outstanding & Invaluable service to the Communities' in America.
Alston Koch moved to America in 2015 and was accepted by the entertainment capital of the World almost immediately speaking at the 'Era Of Conscience' in Hollywood's Universal City on the subject of Climate Change and also hosting The Family Film Award nominations at the HiltonUniversal City with George Hamilton.
Alston Koch was recently appointed as Ambassador for 'The Arts For Peace' Awards to be held on October 30 in America and was recently inducted into the 'Hall Of Fame' of the Hard Rock Hotels.