First-ever Vesak Festival in Pakistan

The first-ever Buddhist Vesak Festival organised by the Government of Pakistan was opened in Islamabad on May 29, 2016. On the invitation of the Government of Pakistan, a 43-member Sri Lankan delegation is currently in Pakistan to attend the Festival. Sri Lanka is the only country which was invited for this Festival. The Sri Lankan delegation led by Minister for Primary Industries, Daya Gamage and Deputy Minister for Petroleum and Natural Resources, Anura Gamage includes senior bhikkhus, religious scholars, pilgrims and media representatives.
Advisor to the Prime Minister Nawaz Sharif on National History and Literary Heritage, Irfan Siddiqui was the chief guest on the inaugural ceremony of the festival at Islamabad.
The High Commissioner of Sri Lanka in Pakistan Maj. Gen. (R) Jayantha Lokuketagodage was also present.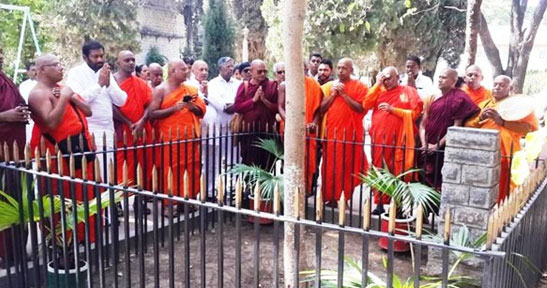 Irfan Siddiqui said, "We are proud to be the custodians of holy relics and Buddhist monasteries, which are an assets for the whole mankind". He expressed the hope that mutual cooperation, friendship and people to people contact will further cement the already existed relations between the two countries. "Pakistan is committed to safeguard and preserve not only all the Buddhist archeological sites and monuments but also ritual places of other religions as well in the best possible manner,"he said.
He told the gathering that on the instructions of Prime Minister Sharif sacred Gandhara relics of the Buddha were sent to Sri Lanka for a month-long exposition as a token of friendship from the people of Pakistan.
Minister for Primary Industries Daya Gamage thanked the Government of Pakistan for organising the first-ever Vesak Festival in Pakistan and warm hospitality extended to the Sri Lankan delegation. The Sri Lankan delegation visited the Dharmarajika Stupa, the Sirkap site and offered religious rituals. The delegation also visited the Taxila Museum.